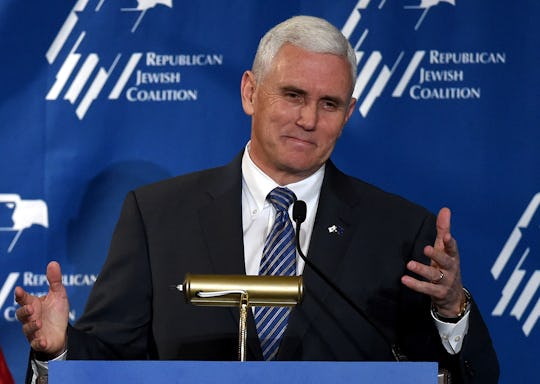 Ethan Miller/Getty Images News/Getty Images
The One Thing About Trump Picking Pence That Liberals Can Cheer About
UPDATE: Trump confirmed Pence as his vice presidential running mate in a tweet Friday morning and said he would host a news conference on Saturday.
It's been reported by Roll Call that presumptive Republican nominee Donald Tump has chosen Indiana Governor Mike Pence as his running mate. Senior communications advisor Jason Miller said on Twitter, "A decision has not been made by Mr. Trump. He will be making a decision in the future and will be announcing his Vice Presidential pick tomorrow at 11 am as planned." Still, given Pence's anti-abortion, anti-gay track record, many liberals aren't thrilled with even the idea of a Trump/Pence presidency. Thankfully, there's one thing about Trump picking Pence that liberals can cheer about: Pence will no longer be seeking re-election as Indiana's governor.
Pence has had a long history of championing legislation that keeps women from seeking safe, legal and affordable abortions. He has also fought to allow religious business owners to refuse service to potential customers based on their sexual orientation. In March of 2015, Pence signed into law a measure that allowed businesses to turn away gay and lesbian customers, sighting "religious freedom." The bill sparked national controversy and state-wide boycotts. Gen Con, a popular game convention and Indianapolis' largest convention in both attendance and economic impact, threatened to reconsider Indianapolis as its annual location because of the bill.
Pence is credited with leading the fight to defund Planned Parenthood, and recently signed a law imposing new limitations on abortions in Indiana. The law banned abortions motivated by fetal abnormalities, fetal genetic defects as well as other fetal characteristics, potentially forcing women to endure pregnancies that could be detrimental to their health and, sadly, even their life. He's long considered himself to be an "Evangelical pro-life champion," which, coupled with his anti-gay and anti-marriage equality sentiments, doesn't necessarily give liberals warm and fuzzy feelings when considering Pence as the nation's vice president.
Thankfully, a departure from state politics in favor of the national stage means that Pence will no longer be able to run for reelection in Indiana as the state's governor. Republicans will be left scrambling to find a replacement for Pence to run against Democratic challenger John Gregg in the November gubernatorial election. Two potential GOP replacements have already been, reportedly, pinpointed: Indiana House Speaker Brian Bosma, who told CNN he was the best candidate to replace Pence, and U.S. Rep. Todd Rokita, who has issued a statement saying that he would seek the nomination if Pence dropped out.
While it's extremely far-fetched to call either potential replacement a liberal choice, neither could possibly be as detrimental to the women and LGBT communities of Indiana as Pence was and is, right? Well, here's hoping.