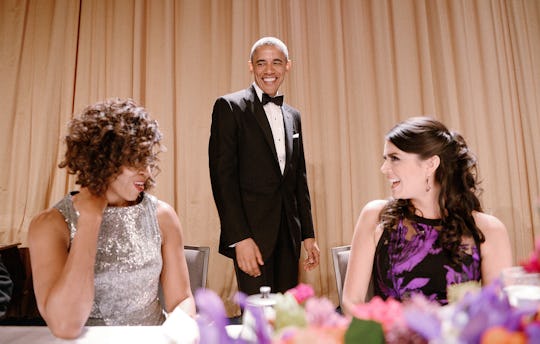 Pool/Getty Images News/Getty Images
The One Thing White House Correspondents' Dinner Guests Ignore Is The Most Important Part
The media call it "Nerd Prom," but the White House Correspondents' Dinner, which will take place this year on April 30, is more than just an opportunity for politicians, corporate bigwigs, and journalists to hobnob with celebrities and laugh at President Obama's jokes (boy, does that guy have comedic timing!). Hosted by the White House Correspondents' Association, a non-profit organization for White House reporters that advocates for greater press access to government leaders, the one thing the White House Correspondents' Dinner is supposed to center on is its trove of scholarships given to gifted journalism students — but you'd never know that from the coverage.
Originally an intimate event of 50 press members beginning in 1929, the Correspondents' Dinner of today is a 5-day bacchanal of parties with swag bags and corporate sponsors culminating in a 2,600-seat dinner where journalists, celebrities, and political operatives are entertained by a famous comedian host and the president. It's a hot ticket for sure. E! News is often seen rubbing shoulders on the red carpet alongside C-Span—a surreal sentence that sums up the spectacle perfectly.
Former correspondent and director Patrick Gavin, who created the documentary Nerd Prom: Inside Washington's Wildest Week, calls the Correspondents' Dinner "increasingly out of control and increasingly out of touch." Nerd Prom looks behind-the-scenes of the well-publicized D.C. event to expose "a private world of excess and extravagance." Gavin criticized the festivities on Politico last year, writing that "the week acts as a tack and vainglorious self-celebration."
Ask those in charge of the gala and they will defend it from charges of over-the-top indulgence, often pointing out that all ticket proceeds fund the aforementioned scholarships. But ask some attendees who that year's scholarship recipients are and they will likely draw a blank (they will, no doubt, remember which celebrity they met).
Gavin thinks the dinner was no longer what it set out to be, telling Page Six last spring,
All the things the weekend was supposed to be about — White House correspondents or scholarships or even fun — just weren't really holding up. And then, of course, that leads you to say, "Well, if it's not about those things, then what is it about?"
In an interview for "Nerd Prom," Jeff Dufour, a former columnist for The Hill and the Washington Examiner, recalls how the award presentations were the least important part of the dinner for most of the guests. A detail, he added, "that does not reflect well on the people in the room."
In a clip from "Nerd Prom," former White House reporter Ann Compton pleads with Correspondents' Dinner guests to be quiet. "Those of you in the back who continue to talk made it impossible for our scholarship students to even hear their names called," she chides. The documentary suggests that this type of noisy behavior is standard.
Former recipient, Ashleigh Joplin, told The Huffington Post that the recognition of scholarship winners was brief, saying, "it happened and then it was gone." She continued, "I can see how it can be said that it's a 'nerd prom.' It kind of gives the illusion that it was more about celebrities, politicians and political lawmakers—giving them a reason to come together."
However, she did appreciate the congratulations she received, saying, "I felt so encouraged and proud of what I did, just having these people that I see from afar and on television telling me I did a good job."
Glynn Hill, a 2015 scholar, told Huffington Post, "a lot of people in the crowd seemed interested in the awards presentations—especially since so many of them are greeting and congratulating you on your way back to your seat."
2013 scholarship winner Brina Monterroza remembered the gala fondly. "For the most part, everybody was supportive and cheering as people went across the stage," she told the outlet. But she did note how much the Correspondents' Dinner has changed. "It used to be this big event where all these journalists come in," she lamented. "Now it's just journalists and celebrities partying it up."
Hill praised the WHCA while acknowledging the night itself wasn't focused on the recipients of the awards. "There's a bunch of things [the WHCA] did for us behind the scenes," he asserted. "But at the dinner, people are really just about drinking and taking pictures."
The complaints surrounding the dinner are assorted. There's grumbling among actual White House correspondents that all the seats are taken by their network's bigwigs. Lead anchors, executives, and top advertisers all want a chance to get close to the president and be at D.C.'s most talked about event — and that leaves the aforementioned "little guys" in the metaphoric cheap seats.
Then there is the media's coverage of the gala. Jon Stewart famously blasted the White House Correspondents' Dinner on The Daily Show after violent protests broke out in Baltimore in 2015 following Freddie Gray's death in police custody. Stewart criticized CNN for choosing to ignore the breaking news in Maryland and continue their event coverage with interviews of CNN's own journalists about celebrity sightings.
Compounding the network's editorial decision, one CNN anchor told viewers to go online if they wanted to see protest coverage, something that Jon Stewart picked up on, saying, "To be clear, a guy on CNN just said, 'Hey, if people are looking for news, I'm sure they can find it somewhere." In a Hunger Games parody, comedian Jessica Williams, as Effie Trinket, grumbled about the protesters who spoiled the capital's grandest night of the year.
Stewart spent 10 minutes (you can watch the segment here) targeting the media's obsession with the Correspondents' Dinner. "If you're gonna ignore major events to put on bowties and blow yourselves, fine, do it—you're consenting adults," he said. "But don't use scholarship money to clean yourselves up afterwards. All we ask is that you be honest about what you do."
Yes, the Correspondents' Dinner undoubtedly does good in granting scholarships to students who are pursuing a career in journalism. But, the problem with it is best summed up in the following anecdote: When the time came at the dinner to present the winner, many networks covering the event, CNN included, cut to commercial.