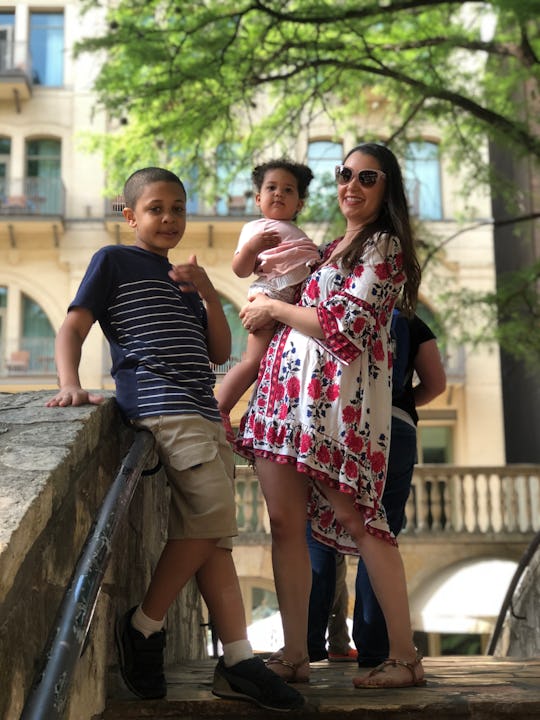 I Started Out Our Trip As "Planner Mom," & 12 Hours Later Had Devolved Into "Chill AF Mom"
A few weeks ago, we set out on a family trip, flying from New York City to Texas for a long weekend. My husband and I thought that we had everything so incredibly under control that we actually fist-bumped each other in the airplane aisle as we boarded our first flight. Yes, first flight being the keywords there. In family travel, as they say, things fall apart. I started our trip out as the super planner mom (the only thing missing was a fanny pack) on a Friday morning, convinced that nothing couldn't be surmounted by a diaper bag of stickers and snacks, by intense levels of ~preparation~, but as our plane rolled back into La Guardia Airport on Sunday, I had morphed into "chill AF mom" to survive family travel, and no part of me was sorry, not one bit.
We didn't realize when we made our plans just how much travel was actually involved in getting to our destination, which is where we first went wrong. But since Friday was the start to an adventurous, on-the-go, cram-all-the-things-in kinda weekend, we were all energized and didn't really care that we rolled into our hotel in San Antonio pretty late that night. It was certainly past the kids' bedtime, I recall.
But since I was wearing my figurative "super planning mom hat," that late night didn't matter, because I was able to cram in two really important stops along the way from the airport to the hotel: frolicking in the bluebonnets, the national flower of Texas that was in full bloom during our visit, and a trip to historic Fredericksburg for the beautiful, old-fashioned sites and a traditional German meal. The restaurant we chose even had a live band, and my 20 month old quickly became their biggest fan, while our 9 year old became fixated on all the old fashioned candy stores we got to stop in. Free samples became his new favorite thing.
It was like the family travel gods looked down from above, saw that things were just going too well, and decided to throw us a few curveballs.
My husband and I clinked our glasses at dinner, cheering each other on for how well our plan had been going so far. I couldn't have imagined the trip going any better than it had been. But then something shifted at the 12-hours-of-travel mark as we strapped our kids into our rented vehicle to finally head to the hotel.
It was like the family travel gods looked down from above, saw that things were just going too well, and decided to throw us a few curveballs until I finally said "eff it" and let chill AF mom take over.
We checked in, headed straight for bed and set our alarm for 7 a.m. so that we could get the most out of our only full day in San Antonio, which we had planned on spending at the famous Riverwalk.
We rose with the alarm and I volunteered after showering and getting everyone ready for the day to go downstairs with the kids to take advantage of the beautiful (and free) breakfast the hotel offered. My husband needed a little bit more sleep after doing all the driving the day before and I was more than happy to get the day going with the kiddos. We got downstairs, loaded a plate with beautiful, soft pastries and lots of coffee for me and chowed down. In the middle of the breakfast nook, there was an elevator and my son somehow talked me into letting him take it downstairs so he could check out how we got to the Riverwalk. He promised to come right back up, and I obliged. He was 9 years old, after all.
Except that's not what happened.
He never came back. I waited and waited. I was alone with the stroller and a toddler and starting to panic. I knew if I took the elevator down that if he came back and saw I was gone, he would then panic. Sh*t.
I decided to take the elevator down anyways and it led right to the Riverwalk level, which sits below the street level. My kid was nowhere to be seen. I also realized right away that the same elevator wouldn't go back upstairs, that my son would have gotten off and realized that he needed to find a way from an area he didn't know, back to the street and then around to the front of the hotel. I was in full panic mode.
I started asking everyone around me if they had seen a small boy come down. Most of the people working spoke Spanish and couldn't understand me. Then, a really kind man told me that he had seen Branden and that he went around to the front of the hotel. So I followed in his path, found the front entrance and started calling my husband like a maniac. Guess who answered his phone? Yup, Branden. He found his way back to the hotel room, he just couldn't figure out how to get back to the breakfast area. At that point I was ready for a drink.
I went back upstairs, upset, and could feel the tears coming. I was so scared that I had lost my boy. We then all got ready together and took the elevator — together — down to the Riverwalk to spend the day exploring.
I realized that I needed to stop with all the planning stuff. I needed to just relax. Experience everything as it comes. The next 24 hours we did boat rides and bought floral crowns from local vendors. We even had lunch at The Rainforest Cafe, when I would typically say "no" to a chain restaurant. It kept our kids so occupied and interested that my husband and I had the most relaxing lunch we had had in years. Years.
We ate when we were hungry, even if it meant ice cream before dinner. We tried so hard to pick a restaurant to experience local cuisine for dinner and failed miserably. They ran out of everything on the kids menu, messed up my husbands dinner and our daughter had a nightmare of a temper tantrum. But you know what? I kept chill AF and everyone around us was so kind. Restaurant patrons stopped to help, went out of their way to make sure we knew that she wasn't bothering them and even reminded us to enjoy this moment — even if it was making our blood boil. They were right. Traveling was better as the chill-AF mom than the planner mom.
And that nightmare of a toddler tantrum lasted all the way until the next day when we got to the airport. I had a glass of wine to prepare myself for this "adventure," but it honestly wasn't enough. She cried the whole first flight. The flight was delayed so we missed our connection. Then had an hour layover, getting us home a few hours later then we had planned for. I tried to be proactive and order dinner while we Ubered home from the airport, but it magically didn't arrive until 10:30 p.m.
What a whirlwind of a weekend, but I wouldn't have changed a thing... except that we then realized our son left his favorite stuffed animal in the hotel room. I tried to remain the chill AF mom when they charged our credit card $90 to send him home.