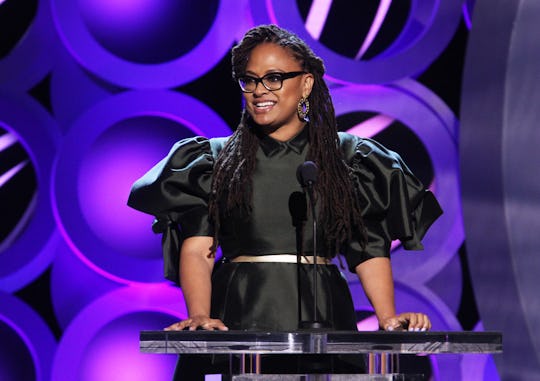 Tommaso Boddi/Getty Images Entertainment/Getty Images
The Oscars Are Dedicating A Time's Up Moment, According To The Movement's Leaders
Time's Up made its red carpet debut at the Golden Globes this year and it will end its awards season run at the Oscars, but there are plans for the movement to continue outside the realm of awards shows. Ava DuVernay confirmed in a press briefing ahead of the Oscars, along with other leaders, that the Oscars are dedicating a Time's Up moment during the broadcast, which will hopefully help the project's momentum.
According to Variety, DuVernay revealed, "There's a moment that's been carved out," although no further details were given for how the organization's legal defense fund and awareness campaign would be highlighted. Time's Up members who spoke to the press also said that there wouldn't be a coordinated protest effort like at the Golden Globes — during which celebrities wore black and nominees hit the red carpet with career activists as their guests — but rather, members of Time's Up would be operating individually on behalf of the organization.
So far, Time's Up has secured a $21 million defense fund and 500 attorneys willing to work pro bono on behalf of clients who have been victims of workplace misconduct across all industries, per a March 1 press briefing held by the organization and reported on by Variety. A Time's Up attorney said that the organization had received 1700 requests for assistance. Apart from raising awareness about the ubiquity of workplace sexual misconduct, Time's Up is also hoping to tackle issues of gendered pay and promotion disparity, paid leave, and workplace safety issues outside the scope of sexual violence. Needless to say, there's plenty to work on in the labor force.
Time's Up revealed in a tweet from their official account that no dress code would be enacted during the Oscars. The tweet announced that supporters would be "wearing a festive array of colors and TimesUp pins, representing this vast movement of women everywhere" and lowering the visual impact of the movement on Sunday night. The movement has copped some flack for what the New York Times called the "empty gesture" of red carpet protest, notably when celebrities wore black gowns on the red carpet at the Golden Globes, so it's probably not the worst idea to avoid tactics like "matching but make it activism."
Joining DuVernay at the press conference ahead of the Oscars were Shonda Rhimes, Laura Dern, Tessa Thompson, political consultant Hilary Rosen, entertainment lawyer Nina Shaw, and the co-CEO of J.J. Abrams' production company Bad Robot, Katie McGrath. Rhimes reminded the press that Time's Up was a movement built to outlast the awards show season, and that, now that it's launched, building its infrastructure is the next step. She said, according to Variety:
It's really important that you know that Time's Up is not about the red carpet...And those women you saw on the red carpet representing Time's Up are now off the red carpet working their butts off being activists.
In an interview with Vanity Fair, Oscars host Jimmy Kimmel confirmed that he'd be doing a bit tied to Time's Up, but it's unclear if this is the "moment" the campaign's leaders were referring to. Kimmel admitted that he was nervous about the audience's reaction, saying:
It's very tricky because when people are scared they don't laugh, and when there's a camera in their face they behave differently than they do in a comedy club or in the audience on a talk show. When you're put in that position, those in the audience become a little bit of a deer in the headlights. That's the part [where] you have to rely on experience and the knowledge of your medium. We all know that what happens during and after the Oscars is that people will take a screengrab of somebody and build a whole story around it.
Hopefully, there will be a more sincere nod to the campaign to look forward to as well. Next up for the Time's Up campaign, according to Reuters, is a partnership with StoryCorps, an oral history project documenting the everyday lives of Americans for historical preservation. Rhimes will team up with the project to record a story, as will Ashley Judd, Jane Fonda, and America Ferrera.
Check out Romper's new video series, Bearing The Motherload, where disagreeing parents from different sides of an issue sit down with a mediator and talk about how to support (and not judge) each other's parenting perspectives. New episodes air Mondays on Facebook.