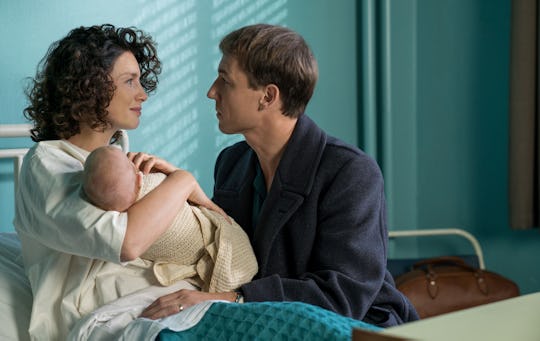 Courtesy of Starz
The 'Outlander' Season 3 Trailer Hints At A Huge Reunion
A year after the final episode of Outlander's fraught second season, there is finally hope for the future (or the past?) now that Season 3 is on the horizon. Season 2 saw Claire and Jamie's relationship go through ups and downs as they struggled to deal with the resultant trauma of Jamie's assault at the hands of Jack Randall, as well as the loss of their first child. They were left in different centuries once again after she reluctantly returned to her own timeline for the safety of their unborn child, though twenty years after their daughter Brianna's birth, Claire vowed to return to Jamie. Now the trailer for Outlander Season 3 is here to continue that story and fill in the gaps.
The trailer focuses primarily on the very different lives Claire and Jamie had been living since their separation. Jamie was imprisoned by the redcoats, while Claire had trouble adjusting to a life without him. She reunited with Frank and chose to raise Brianna as their child, but she just couldn't let go of the past. After searching for solid evidence that Jamie survived the Battle of Culloden, it looks like Claire will be taking a trip through the stones once again to find him. The trailer even hints at a scene that book fans will be delighted to watch play out onscreen – but beware of spoilers for those who haven't read Diana Gabaldon's series.
In the final moments of the trailer, Claire is shown dressed in her 1700s-style clothing again as she approaches a storefront. She adjusts her hair, pushes the door open, and the clip abruptly cuts off. While show fans may be a little lost, book fans might have caught the name on the shop's sign and recognized its significance. The sign reads "A. Malcolm, Printer and Bookseller," and the print shop belongs to none other than Jamie himself. It's the site of Claire and Jamie's reunion after their twenty years spent apart. Or two hundred years apart, if you want to get technical.
Unfortunately there's no glimpse of Jamie, but trailers can't give everything away. It's reassuring enough to know that Claire will definitely be returning to the past sometime after Season 3's September 10 premiere, as well as finding her way back to Jamie. But was there any doubt that she would? Nothing can keep these two apart. It doesn't matter how many hairstyles Claire cycles through or how many decades pass; they will always find each other in the end.