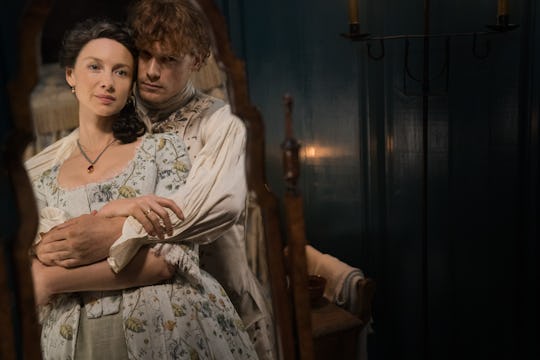 STARZ
Jamie & Claire Are Back For More In The 'Outlander' Season 4 Trailer
There are few things in this world that I fan-girl over harder than Outlander. That is why I have, at this point, probably watched the Outlander Season 4 trailer something like 87 times since it dropped on Monday night. I have also read the books (maybe more than once) so I know what's coming next for Jamie and Claire in the backwoods of 18th century North Carolina. But that doesn't mean I'm any less excited to see what the show does with the story.
The 55-second-long trailer is just long enough to give fans a peak into the main storylines of the season. Whereas previous seasons of the show allowed the romance between Jamie and Claire to take center stage, in Season 4 it looks like the Frasers are going to be dealing with more sinister problems. In under a minute, the trailer shows glimpses of tensions between the neighboring Native Americans, an angry mob, and the discovery of a human skull with mysterious silver fillings in its teeth — indicating it is not of the 18th century. But this is still Outlander, which means that some of the show's old stand-bys are still a part of the action including Claire's chunky knits, sweeping landscape shots, at least one public execution, and yes, sex.
Book fans like myself will also be excited to see that some fan-favorite (or not-so-favorite) characters are finally making their Outlander debut. For example, the trailer shows Jamie and Claire meeting with Jamie's wealthy Aunt Jocasta who, despite being both blind and elderly, exerts more control over her own life than pretty much any other character. The trailer also provides a glimpse a the infamous Stephen Bonnet, a villain so terrible you may find yourself longing for Black Jack Randall again. Maybe.
But for all the new faces, there are still a few characters missing from the trailer, notably Young Ian, Fergus, and Brianna and Roger. It has already been confirmed that Sophie Skelton and Richard Rankin, who play the characters have already confirmed that they will be a part of the series' fourth season. The actors have also already confirmed to Variety that this is the season in which Brianna and Jamie's highly anticipated reunion takes place. For the unconvinced, if you look very closely at the trailer you'll notice a blink-and-you'll-miss-it shot of the standing stones with a woman in the middle of them. So is that Brianna?
As reported by Variety, showrunner Ronald C. Moore said that while Season 3 was a period of transition, "Season 4 is more about settling down and finding a home. Claire and Jamie are literally building a house on the frontier." As as for that reunion scene? It's giving even the stars of the show goosebumps. "This season, it's a huge moment and will be the catalyst to a lot of the drama that unfolds," Sam Heughan, who plays Jamie Fraser, said. Saying that the meeting is a "catalyst" indicates to me, at least, that the reunion scene will happen fairly early in the season. I cannot wait.
Season 4 premieres in November of 2018, meaning fans still have at least three more months to wait until the show premieres. Frankly, I'm not sure how I'm going to do it.