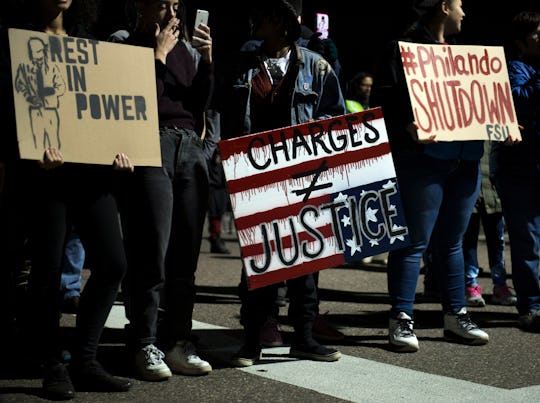 Stephen Maturen/Getty Images News/Getty Images
The Police Officer Who Shot Philando Castile Is Found Not Guilty
On Friday, the final verdict came in a high profile case that has garnered international attention for nearly a year now. In a ruling that quickly sparked backlash on social media, the Minnesota police officer who shot Philando Castile was found not guilty, according to BuzzFeed. Jeronimo Yanez, the officer who shot 32-year-old Castile seven times, was acquitted of all charges by a jury.
In July 2016, Yanez initially pulled Castile over for driving with a broken taillight, according to The Guardian. Shortly after, he fatally shot Castile, who was in the car with his fiancée, Diamond Reynolds. Reynolds' 4-year-old daughter was in the back seat. Soon after Castile was shot, Reynolds began live streaming the incident on Facebook, and the shooting received widespread attention.
Yanez faced three charges in court — one for second-degree manslaughter and two for endangering Reynolds and her daughter — all of which he was acquitted of. According to CNN, the trial lasted two weeks and the 12-person jury deliberated for nearly 30 hours before reaching its decision.
After the verdict was read, the city of St. Anthony announced that Yanez would not be returning to active duty. "The city intends to offer Officer Yanez a voluntary separation agreement to help him transition to another career other than being a St. Anthony officer," a statement on the St. Anthony Village website read. "The City of St. Anthony has concluded that the public will be best served if Officer Yanez is no longer a police officer in our city."
According to The Star Tribune, Earl Gray, the attorney who defended Yanez in the case, told the jury that the officer "had to make a split-second judgment."
"None of this would have happened but for Philando Castile," he said, according to The Star Tribune. "[Yanez] sees the gun and [Castile] doesn't follow orders. That's enough to pull your gun out and end the threat."
According to BuzzFeed, in Reynolds' live stream immediately following the shooting, Reynolds had said, "[Castile] let the officer know that he had a firearm and he was reaching for his wallet and the officer just shot him in his arm." Prosecutors in the case argued that Castile never reached for his firearm and attributed the shooting to Yanez feeling nervous and acting prematurely, according to The Star Tribune.
Following the trial, Castile's mother spoke to reporters. "The system continues to fail black people," she said, according to The Star Tribune. "My son loved this city, and the city killed my son and the murderer gets away."
The trial may be over, but public outrage over Castile's shooting and the jury's decision is likely to continue on for a while.