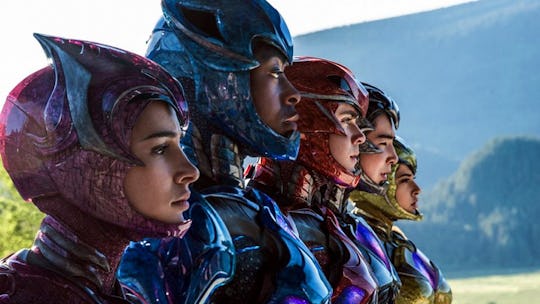 The 'Power Rangers' Trailer Is Here, & It's Dark, Mysterious, & Totally Powerful
It's morphin time, you guys. The new Power Rangers teaser trailer has just dropped, and so has my jaw. The Lionsgate teaser trailer actually teases viewers — I know, rare — being careful not to reveal the full formation of the Ranger suit. The trailer also leaves other elements and characters to the viewer's imagination like Zordon, Alpha, the Dinozords, the Megazord and the notorious moans and groans from Rita Repulsa. Basically, this teaser trailer is pretty awesome and mysterious all at one time.
A crashed car and house-arrest ankle band introduce one of the soon to be Rangers in the trailer. After a mistake, the teen is sentenced to mandatory Saturday sessions in Angel Grove. There, fans are given all the misfit feels from The Breakfast Club, as he becomes acquainted with "other weirdos and criminals" like himself.
After receiving a quick glance into some of the other Rangers' lives, we are taken out of the classroom and into a restricted area. The gang becomes allured by shiny, multi-colored pieces in a rock-like alien structure.
The curious teens are magnetized to the power coins as if they are drawn to their destinies, which spoiler alert to no classic fan, they are. Touching the coins is equivalent to getting bit by Peter Parker's spider. Overnight the team have all been given the Hulk's strength and the acrobatic abilities of Spiderman.
Maybe I missed that part of puberty?
The trailer shows the first time the Rangers use their super powers in civilian clothing instead of their suits, as well. We also get a peek at the deadly Rita Repulsa, played by Elizabeth Banks. She floats over a Ranger in bed, you know, casual. "I've killed Rangers before" she warns before grabbing Trini (Yellow Ranger) by the throat. Moments like this make the trailer pretty damn dark.
Therefore it can be concluded that the whole film will be of this nature, just listen to Halsey's "I Walk The Line" play in the background. I certainly wouldn't hold my breath for lighter, comedic moments with characters like the original series' Bulk and Skull. Though I will dearly miss Rita's repetitive screeching of "I have a headache." Maybe she was successful at taking down a Ranger because she finally found some Advil.
After all these years, the Rangers have never really left. Pfft, friends of mine still use the Ranger communicator sound as a text alert. This rainbow palette of heroes are simply being reintroduced to the world in the most boss way possible. Bring on the spandex, and break out the action figures, as Power Rangers hits theaters March 24, 2017.