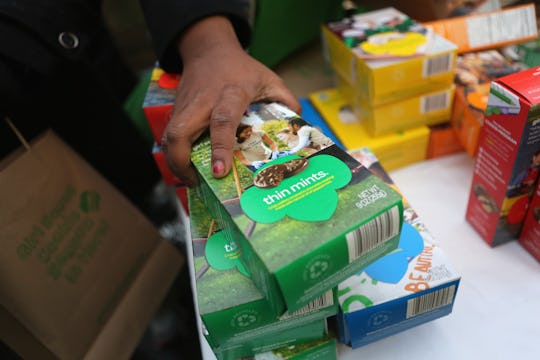 John Moore/Getty Images
The Price Of Girl Scout Cookies Is Going Up... Well, Only For Certain Flavors
It's a sad day for Thin Mint lovers everywhere because the cost of Girl Scout cookies is going up... again. Of course, Thin Mints aren't the only cookies affected by this cost increase. The Girl Scouts of Eastern Massachusetts announced that they will be raising the price of their cookies. So how big of an increase will we see? Well, in certain locales the cost of cookies will be going from $4 to $5 a box. 
However, not all troops are upping their prices. You see, the Girl Scouts organization is divided into 112 local councils, each of which sets its own cookie prices. While a variety of factors affect their cost — including ingredients, market size and availability — it seems production costs have risen steadily over the last few years. As a result, some troops are choosing to raise their prices to increase their profits. (Currently, Girl Scout troops in the greater Los Angeles area, San Diego, Hawaii, and — now — Eastern Massachusetts charge $5 a box.)
While the 25% increase may seem steep, it should be noted that this is the first pricing increase in 8 years. And it probably will not deter most customers from buying a box or two — though they may be rethinking three, four, and five.  
That said, if you are affected by the price hike, you can maximize your sugar slush fund by shopping selectively. Here are the flavors I'd pay $5 a box for:
Thin Mints
When I lived in Florida my mother would store these in our freezer, and then we would eat them ice-freakin-cold. Needless-to-say my love for this cookie runs deep. 
A must have!
Caramel deLites/Samoas
The perfect blend of caramel, chocolate, and coconut these cookies are a dream...unless you hate coconut, like my husband. (Bonus: More for me.)
Peanut Butter Patties/Tagalongs
While Thin Mints hold a nostalgic place in my heart, these are the cookies I cannot wait to get in my mouth. It's like a peanut butter cup (my all time fav sugary snack) slapped on a wafer and coated in chocolate. 
If I can only buy one box — ugh, you're going to make me choose! — this would be it.
Shortbread/Trefoils
Meh. Don't get me wrong I love shortbread cookies, especially as we move into the holiday season, but with so many other options I could take 'em or leave 'em.
Do-si-dos/Peanut Butter Sandwich 
With an oatmeal cookie outside and creamy, peanut butter center these are a good choice when you need a peanut butter fix, and your local troop is all out of Tagalongs.
Thanks-A-Lot
Known for its message — and not-so-much for its taste — these cookies are still a classic.
Lemonades, Cranberry Citrus Crisps, Rah-Rah Raisins, Savannah Smiles, Toffee-tastics, and Trios
Wait..what are all of these? Have I been living in a hole all my life? Why don't the gals in New York carry these?
Whatever your favorite, just remember: 
Image: John Moore/Getty Images; Giphy