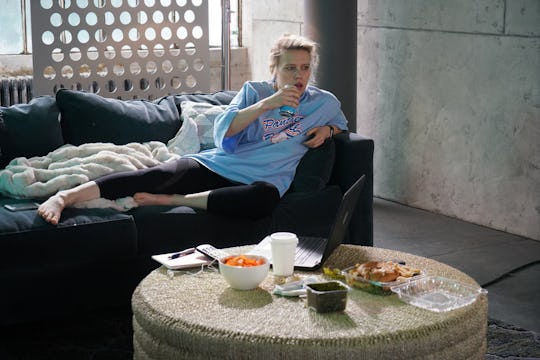 Kailey Fellows/NBC
This 'SNL' Leggings Skit Will Satisfy All Your Comfort Needs — VIDEO
Sometimes Saturday Night Live loses me somewhat, and sometimes a sketch speaks directly to my soul, like the spoof commercial that aired on Saturday night when Chadwick Boseman was the host. It focused on leggings and what most women really use them for. The pro-chiller leggings sketch on SNL will make you want to set up shop on your couch right now — that is if you're not already there (I definitely am).
The skit started like any other inspiring work-out gear commercial, with Heidi Gardner and Melissa Villaseñor acting as the two women who would definitely make me feel bad about my physical ability at the gym. Luckily, the commercial was actually geared toward women like me, who mostly wear leggings while lying on my couch and ordering food off of seamless while watching hours upon hours of TV. "Designed for endurance, but used for what most women actually do in leggings — settin' up shop on their couch," the British woman's voice over proclaims. I have never felt more seen by an SNL skit than at this very moment. Aidy Bryant and Kate McKinnon were then shown lounging like absolute champs in their "soft pants," which looks a lot like what I'm doing as I type this.
I think I actually started crying/laughing when McKinnon proclaimed, "Because let's get real. Leggings can be pants, pajamas, and a napkin," as she wiped some french fry grease off of her hands onto her thigh. Yep, that is completely accurate. I haven't been to the gym in probably years at this point (I know, I know), but you better believe I love me some yoga pants. The voiceover advertised that the pants can keep up with you wherever you go. "The highest peak," Gardner said. "The top of the podium," added Villaseñor. "Couch, bed, other side of couch," explained Bryant. Um, yep, basically.
The pants come with moisture-wicking technology, which is great for wiping up spilled soda, as well as 190 degrees of hot lap, because you're probably going to wear them while covered in a blanket with your laptop balanced on your knees. I think I need a pair of these leggings, you know? The skit got extremely specific, to the point that I'm pretty sure the SNL writers have hidden cameras in my apartment. They included a delivery of one single bagel, and McKinnon's FitBit, which claimed read that she's dead. And I'm not the only one who related a lot to this sketch.
Look I'll be the first person to say that I love seeing commercials featuring empowered women. But on another, perhaps more real level, it kind of makes me feel like a lump because let's be honest I really don't use leggings to go to the gym. And judging by the social media response, plenty of other women don't use their leggings just for the gym either. So yeah, yeah, no fear, no limits, but what we really want is, as Bryant said, "No bra. Ever."
I'm really glad that at least the women on Saturday Night Live understand what I really need from a pair of leggings. This skit was all about relishing in the comfort that comes from this particular item of clothing and I've never felt so understood. Now, if you'll excuse me, I have some serious lounging to do and now, thanks to SNL, I also have the perfect leggings to do it in.
Check out Romper's new video series, Romper's Doula Diaries:
Watch full episodes of Romper's Doula Diaries on Facebook Watch.