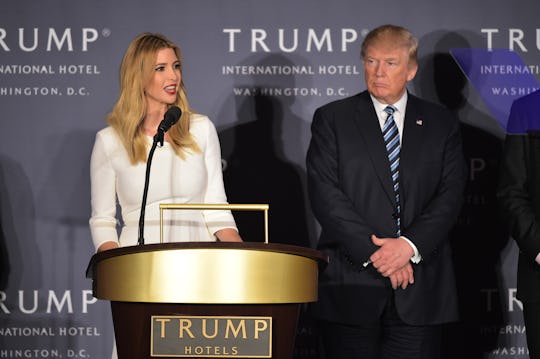 MANDEL NGAN/AFP/Getty Images
The Problem With Ivanka Joining Trump's Administration Stems From Her Business Ties
It is clear and known that President-elect Donald Trump is so incredibly proud of oldest daughter Ivanka Trump, a seasoned businesswomen and powerful speaker. Ivanka has been busy managing her own fashion line, being a mother, and running Trump's non-blind trust. Trump is so proud of his daughter, in fact, that he has not ruled out considering her for a position in his upcoming administration. However, the problem with Ivanka Trump joining Trump's administration is that it's a conflict of interest that breaks a law designed to prevent officials from appointing family members. Ivanka has already reportedly breached protocol by attending certain meetings with or on behalf of her father. The Trump transition team hasn't responded to Romper's request for comment regarding Trump's conflicts of interest resulting from family member involvement in his transition team.
During an appearance on this week's Fox News Sunday, Trump said that he would like to have Ivanka and her husband, Jared Kushner, involved in his administration. Telling the show's host, "we're working that out right now. They're both very talented people." Trump told the show's host that he would "love to have them involved" but that he would have to see "how the laws read" to allow them to join his administration. "So we're looking at that from a legal standpoint right now," Trump said.
Trump's declaration that he wants to see whether Ivanka and her husband can join his administration comes on the heels of reports that Ivanka and Kushner are planning to move their family to Washington D.C. to be close to Trump and the White House in some capacity.
But the problem with Ivanka or her husband joining Trump's administration is that it is a major conflict of interest — especially since Ivanka still has ties to the family business. According to Salon, Ivanka is currently managing The Trump Organization through a trust. According to The Washington Post, as part of her job running the family business, Ivanka is supposed to act as an outside control between the actions of her father and the effects it has on his businesses. If she were to join the administration, she could not take this "outside" approach to her father or their businesses. (Though many argue that the fact that he is her father would still make her vulnerable to influence and thus keeps Trump's businesses closely tied to him.)
There are laws in place — the same ones that Trump was alluding to during his Fox News Sunday appearance — to prevent this conflict of interest from happening. According to Law Newz, a federal law was passed in 1967 to stop a public official from "appointing their family members to an official position." The law specifically states that a public official can not employ, appoint, or promote any relative in "the agency in which he is serving over." Kushner would also be prohibited from joining Trump's administration due to this law. But there is a loophole — according to Law Newz, if Ivanka or Kushner would be willing to give up their salary as a member of the administration, then they could likely work for Trump in the White House. However, according to Salon, Kushner is likely to take a "special council" role in Trump's administration that would allow him to avoid the nepotism law and still allow him to run Trump's businesses.
However, if Ivanka and Kushner were able to get around this anti-nepotism law, a huge conflict remains. A person cannot fairly make decisions and meet with world leaders when they have business ties in certain parts of the world. Shortly after Ivanka sat in on a meeting with the Prime Minister Shinzo Abe of Japan, it was revealed that Ivanka's brand of clothing and accessories was finalizing a licensing deal with a Japanese company. According to Motto, the largest shareholder of that Japanese company is the government. It is things like this that make Ivanka's involvement — in Trump's cabinet and managing businesses at the same time — a problem. Trump's transition team has not responded to a request for comment regarding why Ivanka and Kushner met with Abe.
Despite the fact that laws are in place to prevent Ivanka and her husband from serving in the Trump administration, it is possible they could get around them. Ivanka's relationship to her father and both businesses would pose a serious issue if she were to have any say in potential policies that could affect the U.S. economy.