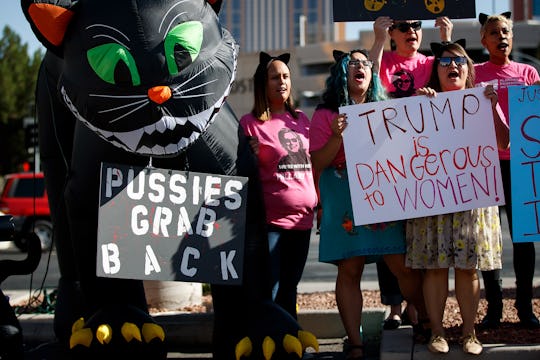 Drew Angerer/Getty Images News/Getty Images
Defunding Planned Parenthood Would Be Costly
One of the steadfast promises President-elect Donald Trump made during his campaign was to strip Planned Parenthood of its funding, telling journalists last year, "We're not going to allow and we're not going to fund, as long as you have the abortion going on at Planned Parenthood. We understand that, and I've said it loud and clear." But the process of defunding Planned Parenthood — if Trump's administration decides to go down that path — won't be easy by any means. Not only would it require a change in federal law, but funding to the women's health organization would have to be cut from several different government sources.
At first glance, it might seem easy for the GOP to defund Planned Parenthood. After all, according to Time, over 40 percent of Planned Parenthood's revenue comes from government funding — and the majority of that government funding comes from Medicaid reimbursements. Thanks to a federal law that allows Medicaid users to choose their health providers, it's illegal for states to exclude Planned Parenthood from their coverage — but Republicans are currently working to repeal parts of the health law, according to NPR.
Republicans recently tied defunding Planned Parenthood and repealing the Affordable Care Act to their budget reconciliation bill, ensuring that they would need only a simple majority of votes (i.e., 51 votes, rather than a two-thirds majority), in order to pass the bill and defund the organization. Since the Senate is currently a Republican majority with 52 Republicans pitted against 48 Democrats, a simple majority would seem easy to achieve — except that three Republicans have expressed opposition to the idea of cutting funding to the health organization. Without their support, Republicans would fall just shy of their needed majority, and Planned Parenthood would remain funded.
Defunding Planned Parenthood could also be a costly move. According to estimates made in 2015 by the Congressional Budget Office, defunding the organization could cost $130 billion over the span of 10 years, since lack of access to family planning and contraceptives would likely increase birth rates — and the cost of those births would still be covered by Medicaid. Even if we ignore the social repercussions of cutting off women's access to affordable family planning and speak about it simply on economic terms, it would be an expensive proposition.
The remaining 25 percent of Planned Parenthood's government funding comes from a federal family planning funding program, Title X. In a new rule that will go into effect on Jan. 18, the Department of Health and Human Services barred states from withholding Title X funds from Planned Parenthood, a move to try and protect the organization's national funding. That rule could be reversed, however, through a Human and Health Services spending bill, or the GOP could attempt to kill the Title X program entirely, according to NPR.
Removing Planned Parenthood's federal funding entirely could be a difficult proposition, and it would require a multi-pronged attack. However, it is still possible — so those who support the organization should write their senators, let their voices be heard, and continue to support Planned Parenthood however they can.