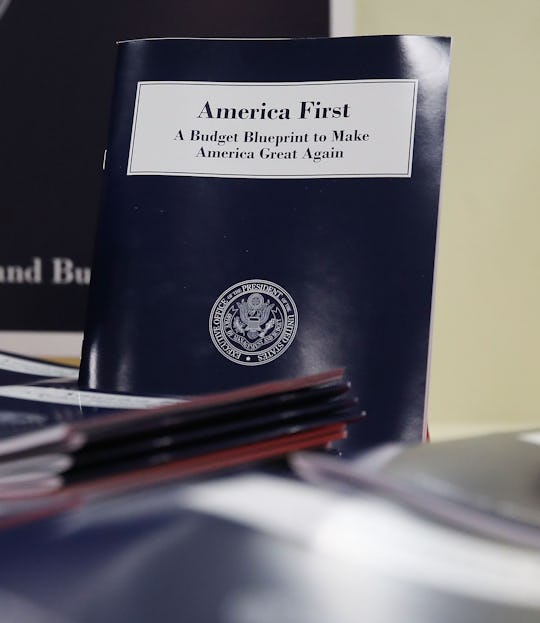 Mark Wilson/Getty Images News/Getty Images
The Pros & Cons of Trump's Budget Blueprint
As anyone who has ever tried to create — and stick to — a budget knows, it requires striking a balance between the money coming in and going out within a given timeframe. Most people aren't trying to wrangle billions, if not trillions, of dollars, though. When it comes to government spending, having to divvy up the money the United States has each year between all the various agencies that rely on it usually requires that some budgets be cut so that others can receive additional funding. Looking at the pros and cons of Trump's budget blueprint for 2018, it looks like the majority of government agencies could fall short.
One of the priorities of the Trump Administration from its outset has been an increase in military spending with the intention of strengthening the U.S. Department of Defense, according to the White House website. But as anyone who has ever tried to head up a budget knows, you can't pull money out of nowhere. Therefore, in the preface to his budget proposal, President Trump made clear that in order to allocate more of the government's funds to the military and other related facets, money would need to be taken away from other areas of spending. The plan only accounts for discretionary spending — which is a small fraction of government money that's handed out by Congress, according to the Congressional Budget Office.
In fact, there are only three departments who will be receiving — rather than losing — funding under Trump's proposed budget: The Department of Homeland Security, The Department of Defense, and The Department of Veterans Affairs. Other major agencies — which include the likes of NASA, the EPA, and the Department of Health and Human Services — will all be taking cuts. 19 agencies would lose their funding altogether; among them the U.S. Interagency Council on Homelessness, the Chemical Safety Board, and the African Development Foundation.
Trump plans to allocate $54 billion to defense spending, $2.6 billion for the construction of a border wall between the United States and Mexico, and and $1.4 billion to the school choice program under Secretary of Education, Betsy DeVos, according to The Washington Post. In order to come up with that money, Trump is eliminating some of the government's discretionary spending to other agencies. Among the hardest hit will be the EPA, whose funding would be reduced by 31 percent; the State Department, which would stand to lose 29 percent; and the Departments of Agriculture and Labor, which would each lose 21 percent.
The budget also proposes to cut any future funding for several programs like the National Endowment for the Arts, and the Corporation for Public Broadcasting, according to The New York Times.
What's The Good News?
Defense spending is generally a large part of discretionary spending to begin with, according to the CBO. It's predominantly used to keep the military flush and ready to go, should the U.S. go to war. Protecting the country, whether through military interventions or domestic programs, is a pricey venture and not exactly an area where it would be wise to skimp. Trump's proposed budget for Defense spending isn't actually that much more than was allocated in past years —only about 3 percent more than it spent last year, according to The Washington Post's analysis.
Trump is also proposing an increase in spending to help veterans, particularly when it comes to healthcare access. In 2015, America was home to 19.3 million veterans, according to the U.S. Census — and 3.8 million have a service-connected disability. The budget proposes $4.4 billion in funding for the VA to expand and modernize healthcare services, which often include treatment for mental health conditions as well as physical. The VA reported that the rate of Post-Traumatic Stress Disorder among veterans is anywhere from 11 to 30 percent, depending on service era.
What's The Bad News?
To start, 19 programs would have their funding eliminated entirely:
African Development Foundation
Appalachian Regional Commission
Chemical Safety Board
Corporation for National and Community Service
Corporation for Public Broadcasting
Delta Regional Authority
Denali Commission
Institute of Museum and Library Services
Inter-American Foundation
U.S. Trade and Development Agency
Legal Services Corporation
National Endowment for the Arts
National Endowment for the Humanities
Neighborhood Reinvestment Corporation
Northern Border Regional Commission
Overseas Private Investment Corporation
U.S. Institute of Peace
U.S. Interagency Council on Homelessness
Woodrow Wilson International Center for Scholars
The Chemical Safety Board is an independent federal agency that investigates disasters like oil and toxic chemical spills, and works closely to make recommendations to the Occupational Safety and Health Administration (OSHA) and the EPA. The Legal Services Corporation provides legal service, like lawyers, to Americans who otherwise wouldn't be able to afford legal council. The U.S. Institute of Peace provides analysis and promotes education to reduce violent conflict around the world.
Along with the programs that would be cut entirely, there are several departments that could see a substantial enough budget reduction that it would impair their ability to adequately serve the American people. The National Institutes of Health, part of the Department of Health and Human Services, stands lose around $5 billion in funding, according to Trump's proposal. To put that in perspective, that's roughly the equivalent to what the NIH spent in 2015 on research for autoimmune disease, heart disease, diabetes, and mental health combined, according to their categorical spending report. While Trump's budget would increase spending to fight opioid addiction, it also reduces funding that can be allocated to train medical professionals, according to USAToday.
That, combined with reductions in funding for the Labor department — which provides job training programs — could certainly have an impact on employment. And even though DeVos' school choice program is getting a boost, the Department of Education on the whole would take a $9.2 billion cut, according to The New York Times. Among the federally-funded programs that would be hardest hit would be work-study programs at American colleges, which often help low-income students complete post-secondary education in addition to taking out loans.
Among the more ironic cuts would be to the U.S. Treasury, which is the agency that prints our dollar bills and coinage in the first place. But the main target of cuts there is actually the Internal Revenue Service, though not in the sense that it would keep them from tax-collecting. Mostly, the budget would like to see the department save money by upgrading its systems so that it no longer relies on paper to keep track of who owes what, according to Trump's proposal, which was released around the same time his own leaked tax documents were released by Rachel Maddow on MSNBC. Trump allegedly paid $38 million in federal income taxes on reported income of $150 million, according to The New York Times. That reported income is roughly equivalent to the $100 million Trump would like to cut of the EPA's climate change work according to Bloomberg.