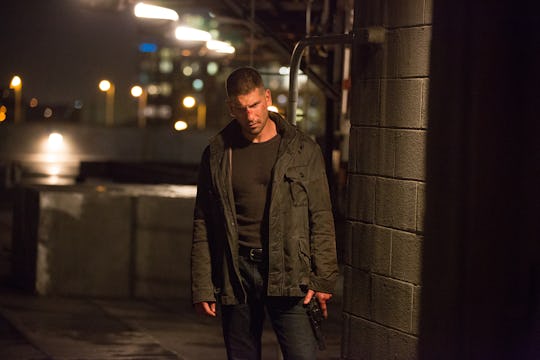 Patrick Harbron/Netflix
'The Punisher' Trailer Teases Frank Castle's Past
Marvel fans have it good these days. On the very same day that The Defenders was released, and likely binged within hours, Netflix also released a brand new trailer for The Punisher. And it looks pretty dark — as one would expect. It's more of a teaser than a trailer, really, since there's not a whole lot of information involved, but it looks like the spin-off series will focus on Frank Castle's past, including his days in the military.
There's no doubt that The Punisher is picking up his crime fighting ways. The trailer begins with Jon Bernthal (who plays Castle) narrating a bunch of flashback scenes. "All the things I'd done, memories, they never hurt me. But the past is more than memories — it's the devil you sold your soul to. He's comin'. He's comin' to collect," he says, in between a lot of grunting and him smashing old pictures and walls with a sledgehammer. Things are likely to get very, very real, as the teaser ends, revealing that he's smashed his signature skull logo. Whoa.
But other than that, Marvel junkies have nothing else to work with, at least for now. There was no huge hint as to what the plot would be or what other Netflix Marvel characters would be showing up to join Castle in the series. One thing is for sure: It's going to be really intense.
Well, there are some details to work with. Netflix signed on Westworld's Ben Barnes, who will play Billy Russo, Castle's BFF from his military days in the Special Forces. He'll play the head of a private military corporation called Anvil in the series. Ebon Moss-Bachrach, who played Desi in Girls, will play Micro, an NSA analyst. According to Netflix, his "secrets may be of great value to Frank Castle and everyone around them."
There's also a new female character, Dinah Madani, who will play a "highly trained sophisticated Homeland Security agent who is vexed by the Punisher," and played by Amber Rose Revah, Son of God. Both of the new characters come from the comic books, but it's the first time they've appeared in Netflix's Marvel world.
Bernthal said of the spin-off in an interview with Deadline:
I'm tremendously excited about it. I look at it as a real joy and a real responsibility and a real honor to play Frank Castle. I feel like he's in my bones now and he's in my heart. I'm ready to keep going with him.
There's no specific release date for the series yet, but it's rumored to be coming out later this fall. Get ready, because he's coming to collect.