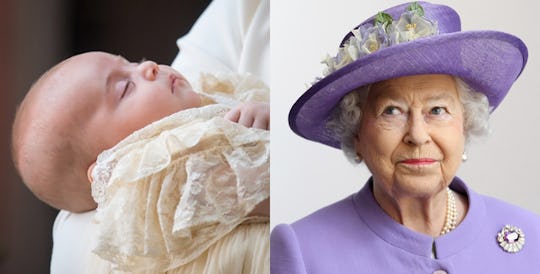 WPA Pool/Getty Images Entertainment/Getty ImagesChris Jackson/Getty Images Entertainment/Getty Images
Here's How The Royal Family Included The Queen In Prince Louis' Christening Portraits
Prince Louis was christened on Monday, July 9, at The Chapel Royal, St James' Palace. Most of the royal family was in attendance to witness the special occasion, except for the Queen of the United Kingdom and Prince Philip, Duke of Edinburgh, due to scheduling conflicts. And the Queen's absence was especially apparent in Prince Louis' christening portraits, which featured every immediate member of the royal family. Although it's unfortunate the Queen had to miss the sweet moment, she got to watch over the post-christening photo shoot ... literally.
It's standard for Kensington Palace to release photos from official events shortly after they take place. Case in point: On Sunday, July 15, Prince Louis' parents, Prince William, Duke of Cambridge and Catherine, Duchess of Cambridge shared a series of photos from the christening on Kensington Palace's Instagram page.
"The Duke and Duchess of Cambridge have released four official photographs to mark the christening of Prince Louis on Monday 9th July," Kensington Palace said in an official statement on Twitter. "The photographs were taken by Matt Holyoak at Clarence House, following Prince Louis's christening."
All of the photos from the christening are precious, especially the one featuring a nod to the Queen. In the sweet photo, as pointed out by The Telegraph, a portrait of the Queen can be seen hanging on the wall behind the group, including: Kate, William, Prince George, Princess Charlotte, Prince Harry, Duke of Sussex, Meghan Markle, Duchess of Sussex, Prince Charles, Prince Of Wales, Camilla, Duchess of Cornwall, Carole Middleton, Michael Middleton, James Middleton, Pippa Middleton, and James Matthews, according to People.
If you're having trouble finding the Queen (this is like a fancy version of Where's Waldo), you can spot her portrait in the upper middle portion of the photo. Interestingly enough, the Queen is wearing blue in the portrait — just like Princess Charlotte, Prince William, and Prince Harry.
"Planned down to coordinating with the drapes, and the the portrait of the Queen in the corner," one eagle-eyed fan noted on Twitter. "Lovely."
It's also possible the Queen skyped with her loved ones following the christening. The Queen, as some royal aficionados already know, reportedly uses Skype as a way to keep in touch with her large amount of grandchildren and great-grandchildren. "She's [the Queen] very much in the modern world, and as most grandparents know, if they want to keep in touch with their families these days that's what they have to do," Yvonne Browne, vice president and chair of the United Kingdom's Women's Institute, revealed, according to People.
The Queen aside, it looks like Prince Louis' christening was a beautiful event from start to finish. Want proof? Look no further than this photo of Kate cradling Prince Louis in a breathtaking outdoor scene.
"So beautiful pic! K enjoys a lot with her children, we can see it and feel she's so happy," one fan marveled on Twitter. "What a pic!"
"Well this is the best thing I've seen all week," someone else said.
Another person chimed in: "Probably the most relaxed picture of the day that we've seen. It's lovely."
Another gem from the day? A photo featuring Duchess Kate and Princess William with all three of their kiddos.
"Great family picture! Those are just the cutest children!" one person wrote on Twitter.
"That's bloody adorable!!" someone else added.
And last but not least is the final photo — a stunning portrait of Prince Louis with his immediate family members. I especially love this pic because you can see Princess Charlotte holding onto Prince Louis' tiny hand. It's beyond sweet.
Although these photos would have been better if the Queen was present, they're still gorgeous and special. And you got to give the royal family props for their creative solution to the Queen's absence — that probably took a lot of planning on their part. Bravo.