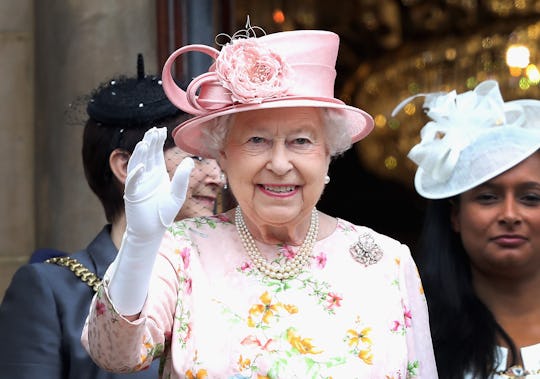 Chris Jackson/Getty Images Entertainment/Getty Images
The Queen Owns A Hand-Waving Machine To "Help" Her During Official Appearances
The Queen of the United Kingdom, a.k.a. Queen Elizabeth II, makes a lot of appearances at her age of 92 years old. And all of that work can be tiring for any person, let alone someone as old as her. But there is something that she owns to help her when she gets tired — a machine that helps her wave to people. The Queen's only daughter, Princess Anne, revealed that the Queen owns a hand-waving machine (involving a fake hand) and it sounds absolutely incredible.
Princess Anne revealed in a preview for the new book, Queen of the World by Robert Hardman, that her mother received the hand waving machine as a gift a few years ago. Although that might not be anyone's first choice for a gift, it's easy to see why it is fit for the Queen — because her "royal wave" is pretty iconic.
Princess Anne told Hardman, according to People, that the Queen received a machine waving gift from "a group of students" during a visit to Australia a few years ago and has cherished it ever since, even taking it back to the U.K. with her, according to Express.
"They gave her a stuffed glove on a wooden lever so that you can tweak the end of the lever and this hand went to and fro," Princess Anne said, according to People. "I think they thought it was rather cheeky but Her Majesty was thrilled."
How could she not be thrilled?
Hardman added in the book (which is out in stores later this year), according to the Express:
The Queen was rather taken with it and I think it ended up at Balmoral. I don't think she ever used it in public, but I hear it became a much-loved family joke.
Although it might be incredibly hard to shop for a woman like the Queen, it's pretty much guaranteed that she doesn't have a device to help her with her famous royal wave. The Queen was probably thrilled for the obvious reasons — that isn't a gift you can buy in stores.
Not to mention, the gift is pretty genius. The Queen's arms must get tired, when she waves during her many royal appearances throughout the year. Although it might be likely that someone would be able to tell if the Queen was using a fake hand to do her waving for her, it's the thought behind the gift that counts, right?
The Queen's royal wave isn't your average wave, according to ABC News. It's very specific and requires a lot of skill and practice. Royal expert, Victoria Arbiter, explained to ABC News in 2012:
You can recognize a royal wave immediately. It's a vertical hand with a slight twist from the wrist, a classy affair that oozes decorum, but doesn't get too excitable.
Arbiter also told ABC News that this is a very specific wave designated to the royal family because "it denotes class, elegance, restraint, and character."
The Queen's royal wave is so popular that her great granddaughter, Princess Charlotte, even tried to mimic it during an appearance in June. With just a little bit of practice, her wave will one day become as great as the Queen's wave.
As previously stated, the Queen does a lot of waving. The Queen carried out 296 public duties last year, according to People, choosing to focus on engagements based around London. Although she did not carry out the most public duties (that was her oldest son, Prince Charles who made 374 public appearances in the U.K., according to People), her devotion to her work needs to be admired.
Although the Queen might be making less royal appearances than she has in the past because of her age, people have no reason to worry. If the Queen ever gets too tired she can always rely on her hand waving machine to do some of her most important (and famous) royal work for her.
But given how the Queen doesn't appear to be retiring any time soon, its likely that she won't need the gag gift to do any of her work.