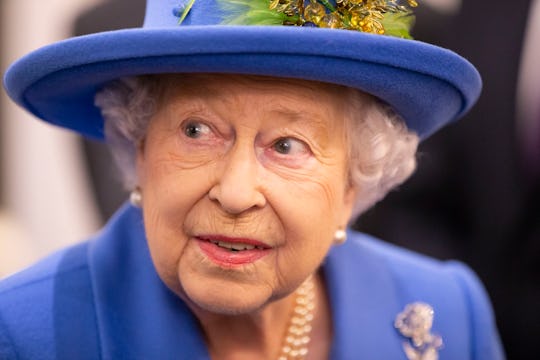 WPA Pool/Getty Images Entertainment/Getty Images
The Queen's Last Corgi Has Died: A Look Back At Her Most Touching Moments With The Royal Pups
It's a sad day for Queen Elizabeth II: the animal-loving monarch recently had to say goodbye to her dog, Whisper. But while the loss of any pet is always difficult, Whisper's passing has also meant that the Queen's last corgi has died, marking the official end of what had been a whopping 85 years of devoted corgi ownership, according to The Express.
The 92-year-old monarch has long been known for her love for the Welsh herding dog, and over the years, her corgis have enjoyed quasi-celebrity status: not only have their lived their lives in the luxury of Buckingham Palace, but in 2016, her late dogs, Holly and Willow, even posed with the Queen on the cover of Vanity Fair. And earlier this month, Lionsgate films even released a trailer for the upcoming animated flick, The Queen's Corgi, whose main character is, uh, yep, one of the Queen's corgis.
Unlike most of her dogs though, the Queen had only had Whisper for a relatively short time: she'd actually adopted the 12-year-old dog in 2016, according to People, after her former gamekeeper at Sandringham, Bill Fenwick, died. And while she does still have two more dogs — corgi-dachshund mixes, Vulcan and Candy, according to People — the loss of the Queen's final purebred corgi certainly seems like the end of an era.
Unfortunately, Whisper's death hasn't even been the only loss she's endured this year. In April, the Queen also lost 15-year-old Willow, the last corgi to descend from her very first dog, Susan, whom she received as a gift on her 18th birthday, according to The Telegraph. But she certainly has a lot to look back on — over the years, the Queen and her beloved pups have shared some very sweet (and funny) moments together.
Corgis Have A Long Royal History
Though royals seem to have been dog-lovers for generations, corgis first earned their regal association when Queen Elizabeth's father, King George VI, brought their first corgi, Dookie, into the family in 1933, according to NBC News.
By the time the then-princess received Susan about a decade or so later, her love for the breed seemed to be clearly established: according to NBC News, she has actually cared for 13 generations of Susan's descendants over the years.
They Traveled In Style
Though they may have been blissfully ignorant of royal etiquette, there's no question that Queen Elizabeth's pack of corgis lived the high life. In addition to living with the monarch in her palace, the Queen's corgis often travelled with her, and have been spotted ascending the steps to her private plane many times at London's Heathrow Airport. In fact, at one point in this clip, shared by Airtime Footage, the pups could even be seen boarding the plane before Her Majesty — which pretty much makes them to only ones who could possibly get away with that.
They Helped Promote The 2012 London Olympic Games
Queen Elizabeth made quite the impression when she teamed up with Daniel Craig for an incredibly endearing and entertaining 007-themed segment at the opening ceremony of the 2012 London Olympic Games. But while the clip already had some serious star-power, two of the Queen's corgis also got in on the action, and had their moment in the spotlight as they accompanied the monarch through the halls of Buckingham Palace.
But They Haven't Always Been Well-Behaved
If there's anyone in the world who seems like they'd make a perfectly calm and assertive pack leader, it has to be Queen Elizabeth. Yet, while her corgis definitely seemed to be obey her, it sounds like they also got in their fair share of trouble. In fact, in 1954, one of the Queen's three corgis was said to have bitten a member of the Queen's Guard, according to The New York Times, and in 2012, the Queen's grandson, Prince William, revealed that the dogs were "barking all the time," even quipping, "I don't know how she copes with it."
One person who appeared to have been spared though? Meghan Markle, the Duchess of Sussex. In her joint interview with Prince Harry following their 2017 engagement, the prince joked, "The corgis took to you straight away. For the last 33 I've been barked at. This one walks in — absolutely nothing."
There's never anything easy about losing a pet, and given that she's spent so many years surrounded by animals, it must feel incredibly sad for the Queen to no longer have any of her corgis around. But since her dogs have been such a big part of her life, she must certainly have many happy memories she can hold onto moving forward.