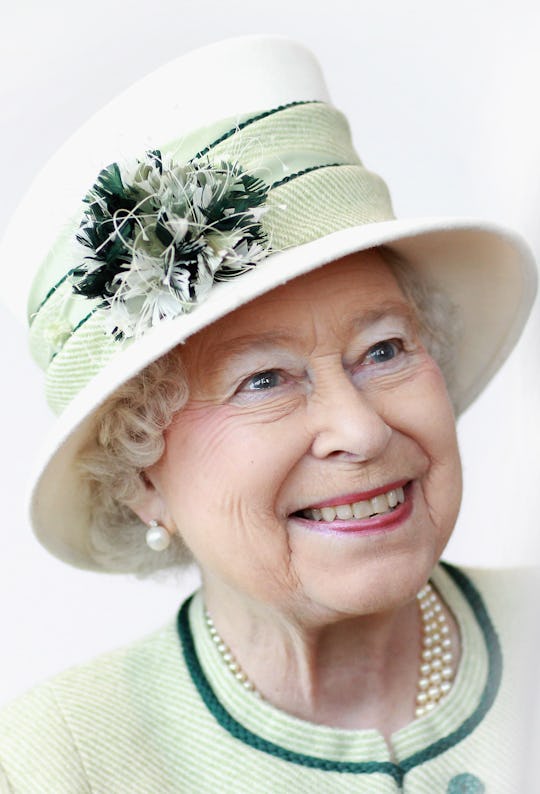 Chris Jackson/Getty Images News/Getty Images
One Of The Queen's Unusual Christmas Traditions Involves... Public Transportation
The queen is someone who could probably have any kind of holiday celebration she wants. Regal and high-pomp, down-home and festive, you name it. And she undoubtedly has scores of people at her beck and call to make it all happen. But if you look at one of the queen's quirky holiday traditions, it's easy to figure out that this is a lady who likes to do a few things for herself — perhaps including celebrate in a low-key and fun manner.
The queen spends the holidays at her country home in Sandringham, according to Hello! Magazine. In fact, that's where the entire family gathers in the days just before Christmas for socializing, food, and to watch the queen deliver her Christmas Day address. But it's what happens before the monarch arrives at the home that is so unusual — she takes public transportation to get there!
The Evening Standard reported that every year the queen and her husband, Prince Philip, catch the train from King's Cross station and travel first-class to King's Lynn station in Norfolk. In 2017, the paper published an adorable video of the two disembarking, the sovereign wrapped in a headscarf and clutching her ubiquitous purse.
This isn't the only time the queen chose to travel by public transportation. Travel & Leisure reported that she took the same trip in reverse earlier this year when she spent a few weeks at Sandringham for the celebration of her ascension to the throne. In February, she was seen at King's Lynn station boarding the train to take her back home to London, according to Travel & Leisure. (One thing that sets her apart from most of us: She's not hauling any luggage.) She's even been spotted riding the bus. INSIDER reported that in 2013 she visited the Medical Research Council Laboratory of Molecular Biology and took the bus to get there.
It's a tradition that the family appears to be carrying on. In September 2018, Prince Harry and Meghan Markle were seen in a public train station catching a train from Loughborough to Leicester, according to Marie Claire. A sharp-eyed traveler saw them and posted a video to Twitter showing the pair walking casually, hand-in-hand.
If all that isn't enough to convince you that this family is just like us, perhaps some of their other Christmas traditions will. For one thing they give gag gifts, as Hello! Magazine reported, including a white leather toilet seat that Prince Charles received one year. And Princes William and Prince Harry host a friendly soccer match every year with workers from Sandringham estate vs. people who live in the nearby town, according to Marie Claire. With the brothers playing on opposite teams, it's said to get very competitive.
A few of the other traditions are decidedly a little more formal. Everyone walks to a Christmas morning church service at a chapel on the estate, according to Express. Well-wishers and members of the public line up to greet the royals, so that morning is a little bit of work in the middle of their family time. And after a hearty traditional lunch the family gathers to watch the queen give her Christmas address, according to Hello! Magazine.
Mostly though they just enjoy the time spent together, celebrating the holiday, food, family, and fun, all starting with some good ol' public transport.
This first-time mom wants to have a home birth, but is she ready? Watch how a doula supports a military mom who's determined to have a home birth in Episode One of Romper's Doula Diaries, Season Two, below. Visit Bustle Digital Group's YouTube page for the next three episodes, launching Mondays in December.