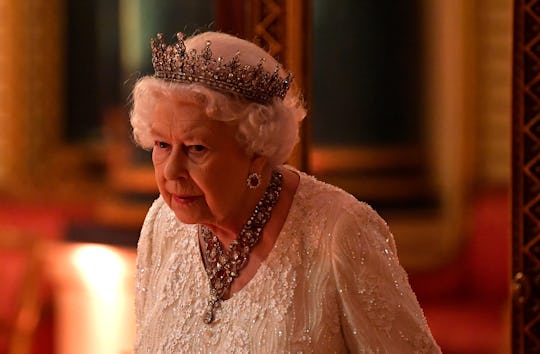 WPA Pool/Getty Images Entertainment/Getty Images
The Wedding Gift The Queen *Could* Be Giving Prince Harry & Meghan Markle Is SO Extravagant
Prince Harry and Meghan Markle's wedding is just weeks away, so you can just imagine how busy the royal family's staff is right now getting everything ready. There are so many things to care of, but it appears that one person is more than ready for the big day. Before we even know what she's going to wear or if she'll give a toast to the happy company, it was reported this week that the queen's wedding gift to Prince Harry and Markle is reportedly just as extravagant as you'd expect.
Of course it is, though, right? This is the Queen of England we're talking about, so you know her wedding gift won't be a $500 blender or some set of pots and pans from Williams & Sonoma. According to The Mirror, Queen Elizabeth II is planning on giving the young lovebirds a home. Palace sources predict that it's going to be York Cottage, which is part of her own private estate in Norfolk, Sandringham Estate. Nothing has been confirmed yet, but according to Harper's Bazaar, the queen has a habit of giving property as gifts.
The outlet also reported that the home is filled with history; King George V and Queen Mary moved into the property after they got married back in the 1890s. He described it as looking like there were "three Merrie England pubs joined together," which sounds so cozy.
Then again, The Telegraph reported in 2013 that York Cottage was an "awful house." The outlet reported, "Like his father, George V seems to have been devoid of aesthetic sensibility, but he loved York Cottage... Longing to do the house up herself, poor Queen Mary had to put up with the ghastly Maples furniture he had purchased." So who knows whether Markle and Harry will like it, but really... how can a royal estate be bad?
Of course, there aren't any recent pictures of the cottage interiors readily available to judge how "awful" it may or may not be, but if you ask me, Sandringham Estate is absolutely gorgeous. If you're ever in the United Kingdom and want to see for yourself, York Cottage is just one of the homes on the property, which is massive. According to the estate's official website, it's been a private estate since 1952, but the family has made sure to preserve it for future generations, so all the landscaping and such is all about sustainability. The website explains:
Over five thousand trees and several miles of hedges are planted each year, ten wetland areas have been created, sympathetic farming practices encourage many different species of wildlife, and food waste, glass, metals, plastic, cardboard, and paper are all recycled.
There's also an apple juice pressing plant and a sawmill, along with over 200 farmers, foresters, gamekeepers, and gardeners employed by the estate. So if Markle and Prince Harry move onto the cottage, there will be even more opportunities for local people to help with the upkeep and everything.
Which would be in line with everything that Markle and Prince Harry have actually asked for in terms of gifts to commemorate their marriage. After announcing their engagement, the couple released a statement via the Kensington Palace Twitter account which said:
Prince Harry and Ms. Meghan Markle are incredibly grateful for the goodwill shown to them since the announcement of their engagement and are keen that as many people as possible benefit from this generosity of spirit.
The charities are, according to ELLE:
So, if you can't give the couple a cottage but want to send your appreciation, you can always make a charitable donation to one of those organizations. Knowing just how classy and thoughtful Queen Elizabeth is, it's likely she will do both.
Check out Romper's new video series, Bearing The Motherload, where disagreeing parents from different sides of an issue sit down with a mediator and talk about how to support (and not judge) each other's parenting perspectives. New episodes air Mondays on Facebook.