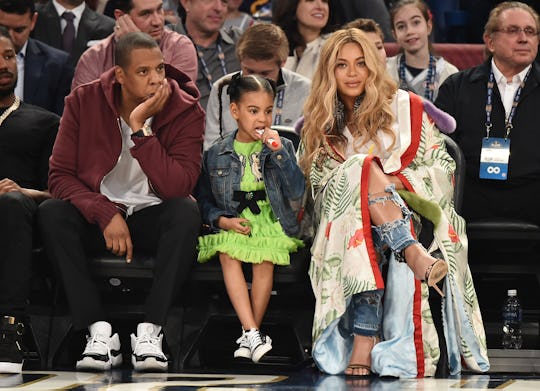 Theo Wargo/Getty Images Entertainment/Getty Images
Blue Ivy Asks JAY-Z A Profound Question In '4:44'
Rapper JAY-Z's latest solo album, 4:44, is finally here. After a ton of speculation about the album and what it would be about, 4:44 was released to TIDAL — JAY-Z's streaming music service — around midnight on June 30, and the internet has been abuzz with news of the album ever since. Once again, his daughter Blue Ivy makes an appearance in JAY-Z's music, and the question Blue Ivy poses to JAY-Z in 4:44 is profound, to say the least.
4:44 is JAY-Z's 13th studio album, according to The New York Times, so some might wonder whether he has anything more to say. Frankly, those people can shut up now. Because by all accounts, 4:44 is an incredibly personal, thought-provoking, complex album that will likely take critics a very long time to truly analyze and discuss.
According to The Hollywood Reporter, 4:44 is a 10-track album, and it was released to subscribers of Sprint and the TIDAL music streaming service, as well as 160 stations via an arrangement with iHeartMedia. And although, according to Rolling Stone, JAY-Z apologizes to Beyoncé for his alleged previous infidelities on the album (infidelities of which there are no proof other than the couple's allusions in their work), and though it does at times appear to be a response to her album, Lemonade, that's not all 4:44 is about.
In particular, one track that fans and reviewers alike are talking about is "Legacy." On it, Blue Ivy speaks in the opening to the song, and according to Vulture, she asks "a simple, innocent question that has only complicated, mature answers."
That question? "Daddy, what's a will?"
ABC News reported that the rapper "reflects on the husband and father he hopes to be on songs like "Legacy," and including Blue Ivy on the track is an obvious indication of that. It is reportedly the final song on 4:44, and it's fitting that he chose to close out his new project in a long career by including his daughter, who likely represents the future to the 47-year-old rapper.
And the profound nature of the question Blue Ivy asks on "Legacy" was not lost on reviewers, or fans reacting to the new album on social media. In a track where, according to The New York Daily News, "the rapper expresses hope that his children use their wealth to promote 'black excellence,'" the inclusion of the young girl is one way JAY-Z may be trying to encourage his daughter.
But the question she asks is very complicated for such a young child. And fans had all sorts of feelings about the question Blue Ivy asked her father on the song.
Some of the responses were funny, like when Twitter user @yeebeyzy tweeted, "ladies btw Blue Ivy Carter said 'daddy, what's a will?' not 'daddy, what's a whale?' yall not finna play my sis like she stupid."
And some pointed out that the song itself could be seen as a creative representation of the sort of document Blue Ivy asked about. Radio station 102.7 KIIS-FM tweeted a quote from JAY-Z himself that said, "'Legacy is like a verbal will.' - JAY-Z about #Legacy #444onKIIS"
And to many fans, their feelings could be summed up very simply. Writer @thrtrudz tweeted, "'Daddy... what's a will?' On the song 'Legacy.' Album closes with this song. Aww.😭😭😭"
Blue Ivy's question even made some people cry. Twitter user Candice Marie Benbow tweeted, "Blue saying, 'Daddy, what's a will?' LEGIT made me cry. Jay is making it clear them babies will have to want for NOTHING! #444"
And it's not unreasonable that people would have such reactions to the line. It's really a very big question, about a topic that most kindergarten-aged kids don't really think much about. It makes you wonder where exactly Blue Ivy heard about a will, what she thought it was, and why she thought to ask her father about it.
The sort of things that are covered in a will — transfer of wealth and property after death, or custody of minor children when parents die unexpectedly — are extremely complex and difficult topics. But JAY-Z hopefully had a fairly simple, comforting answer to this very not-simple question from his daughter.