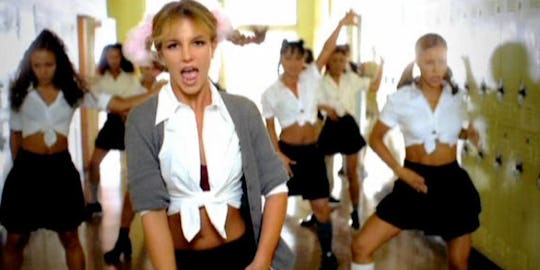 The Real Meaning Of "Hit Me Baby One More Time" Is Revealed, & It's Not About What You Think
Ready for the ultimate #TBT (on a Friday)? Author John Seabrook has released a behind-the-scenes book on pop hits and finally unveiled the meaning behind Britney Spears' hit "Hit Me Baby One More Time" (see what I did there?). And looks like we can finally rest easy for loving the famous earworm: it's not about domestic violence, after all.
Swedish songwriters Rami Yacoub and Max Martin penned the hit in the late '90s and wanted to portray an infatuated teen begging for another chance. She wants her ex-lover to call her — and the Swedish pop writers believed "hit" was slang for the same thing (somewhat in the same vein as "hit me up," I suppose?). 
In 1999, Spears tried to lay rumors to rest in her cover story with Rolling Stone, insisting, "It doesn't mean physically hit me. It just means give me a sign, basically. I think it's kind of funny that people would actually think that's what it meant." Still, the lyrics, paired with knee socks and a provocative schoolgirl look, led many people to make assumptions about the song's content, and several bands passed on the hit song before it was handed on to Spears.
The main songwriter responsible for the confusion, Max Martin, also wrote for other '90s pop royalty 'N Sync, Backstreet Boys, and Robyn. Other wildly successful songs we knew and loved as a generation — including more recent tunes by Rihanna and Taylor Swift — are covered in Seabrook's The Song Machine: Inside the Hit Factory.
The revelation of the story behind Britney's famous song coincides with its sweet sixteenth anniversary, so to celebrate, let's revisit the '90s and enjoy its catchy lyrics guilt-free:
Image: Jive Records