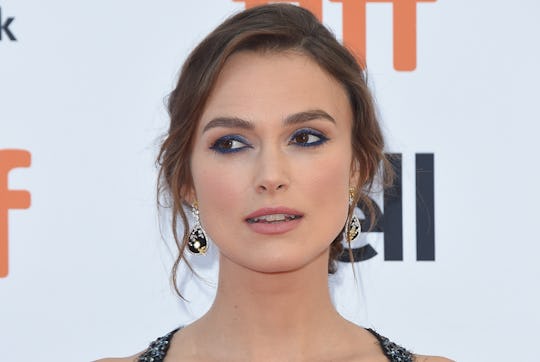 Michael Loccisano/Getty Images Entertainment/Getty Images
Keira Knightley's 3-Year-Old Still Won't Sleep Through The Night
Sometimes, it can be hard to feel badly for stars when they talk about their problems. Boo hoo, you can't eat a $500 dinner without someone coming up to you and telling you that they love you. Oh no, you had to miss an awards show because you were filming a movie in a tropical location. Well this is not one of those times. She may be rich, beautiful, talented, and all that jazz, but Keira Knightley's 3-year-old still won't sleep through the night, and I wouldn't wish that on my worst enemy. OK, fine, maybe I would, but I have no specific qualms with Knightley, and the poor woman deserves a break.
On a press tour for Knightley's new film, Colette, in which she plays a 19th-century French novelist, she finally got that break, she told Us Weekly. Little Edie Knightley Righton stayed at home with her dad, Knightley's musician husband, James Righton. "I've actually — for the first time in quite a while — had the last five nights of sleep," she admitted, "So I'm feeling more alive right now than I have in three years!" And lest you think she's exaggerating, she stressed that this has been an ongoing issue. "She has occasionally slept through the night, but not in any kind of prolonged sense."
I can't even imagine what that's like. Whenever I'm talking to new, first-time parents, I sympathize with their profound sleep deprivation, and assure them that after the first few weeks, the baby will finally let them have some rest. But I guess some babies do not. Knightley said she and Righton have even tried bringing Edie to see a specialist, but to no avail: "We've done everything," she said, but sadly, the family has resigned to just be completely exhausted for an undetermined amount of time: "She'll sleep when she's ready," the poor dear reasoned.
But humans need sleep.! This is bad. This is bad for the whole family! And while I applaud Knightley for toughing it out rather than hiring a night nurse, which I'm sure she can afford, that won't solve the problem, either. So why doesn't Edie sleep? Some possible explanations:
The Tot Just Loves A Challenge
When Edie was around 3 months old — outside the norm of fitful sleeping for some babies, but certainly not unheard of — she expressed her surprise, and pride, at being able to deal with her daughter's torture in an Elle interview. "The ability to have no sleep and continue going... It's not pleasant," she admitted. "I never thought that I could actually do it for the amount of time that I've done it."
From there, it became a game of no-sleep chicken between Knightley and Edie, as Mom made her Broadway debut, starring in Therese Raquin — which she signed on for before realizing that she was pregnant — just five months after giving birth. It was "quite tricky without sleep," the actor told Vogue, but she hung in there. Maybe if she finally gave in and threatened to quit working, Edie would stop this madness, satisfied in the knowledge that she'd bested Knightley at last.
It's The Mother's Curse
Did your mom ever, in a fit of frustration, tell you that she hoped you'd grow up to have a kid just like you? Did you know that it always, always comes true? Now, this could be chalked up to genetics, or children's personalities being shaped, at least in part, by the people who raise them, but that's a bunch of baloney. It's the Mother's Curse, plain and simple. And yes, Knightley's mother did put one on her. "I didn't until I was six," she told Us, "So my mum is thrilled, because she says it's comeuppance." That's just cruel, Mum! Call it off already!
She's Afraid Of What She'll Miss
When you were little, did you ever wonder what your parents did while you were sleeping? Was that when they busted out the good snacks and watched all the cartoons they wanted without recourse? Same here, but that's not what I'm talking about. Edie has much more mature topics to fret about. You see, if she goes to sleep, the fate of the world may be at stake.
The first — and only — occasion on which she slept through the night was the evening of November 8, 2016, a day that will live in infamy. Her parents, meanwhile, stayed up all night (why not; they were used to it by then) monitoring the results of the U.S. presidential election, Knightley told British talk show host Jonathan Ross, according to Express.
Edie didn't waked up until about eight in the morning, at which point I think he was giving his victory speech. I brought her into bed, and she's watching the television completely silently and totally still for about four minutes, and she rolls over onto her back, and she closes her eyes, and she goes, "F*ck!"
I totally get it, Edie. Some people worry that their baseball team will lose if they wear the wrong jersey to a game. Some people think that stepping on a crack in the sidewalk will cause their mother grave injury. And the one time you let your guard down, Americans elected Donald Trump as the leader of the free world. I wouldn't sleep again, either.