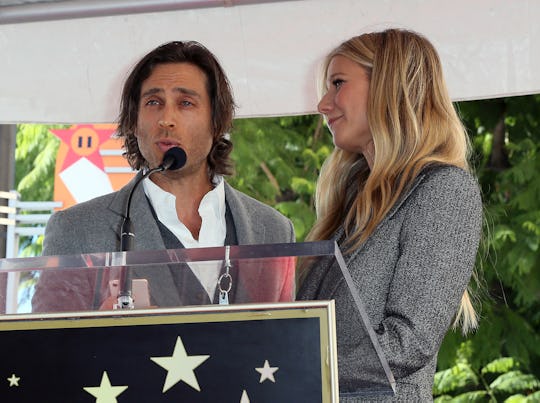 David Livingston/Getty Images Entertainment/Getty Images
Here's Why Gwyneth Paltrow & Brad Falchuk Haven't Yet Moved In Together
Goop founder, actress, author, and mom Gwyneth Paltrow and her new husband Brad Falchuk found love after one divorce each, and four children between them. But the reason Gwyneth Paltrow and Brad Falchuk haven't moved in together yet is a truly tricky one, but it's nice to know that the ultra-organized Paltrow doesn't have life completely organized all the time. As Us Weekly reported, Paltrow has admitted that blending two different families into one new, functional stepfamily unit can be fraught, so she's not yet sure of the ground rules, or how to do it correctly.
As a result, Paltrow and Falchuk — who married in September at the star's Hamptons home in a romantic ceremony featuring only close friends, including Steven Spielberg, Robert Downey, Jr., Jerry Seinfeld, and Cameron Diaz, according to People — are maintaining separate residences, at least for now.
"I've never been a stepmother before. I don't know how to do it," Paltrow, 46, told WSJ. Magazine in the publication's December 2018 issue, according to Us Weekly.
The actress and entrepreneur is mom to Apple, 14, and Moses, 12, with ex-husband Chris Martin, while producer Falchuk has two kids, Brody and Isabella, with ex-wife Suzanne Bukinik, Us Weekly added. That's a lot of different kids, all of whom have been raised in specific ways and have their own personalities.
So Paltrow's doing what she thinks is right for her family and keeping their households separate, for now. In fact, she's far from alone in navigating this territory: Only 46 percent of U.S. kids under the age of 18 were living with two married, heterosexual parents who were still in their first marriage, according to 2014 data from Pew Research Center.
Paltrow's not rushing on hiring the moving van, as the South Carolina-based Index-Journal reported. "We are still doing it in our own way. With teenage kids, you've got to tread lightly," she explained to WSJ. Magazine. "It's pretty intense, the teenage thing."
In any case, the star's kids have a close relationship with their dad, and don't need a replacement for that role, according to Us Weekly, which reported that Martin has a great relationship with Paltrow and has a room at her California place so that he can spend plenty of time with the kids when in town.
As People reported, though, none of this caution means Paltrow isn't super-excited about this new phase of her life. "I'm excited about everything!" the entertainer told the magazine, pre-marriage, when chatting about her then-upcoming wedding.
As for her relationship with Falchuk, Paltrow admitted in the new interview, as noted by the Index-Ledger, that her second marriage is "fantastic... I feel like we are probably better equipped to choose our life partner when we are halfway through life ... I feel really lucky to have met this person."
Going on to call her relationship a "process," there's a good chance that Paltrow will approach her domestic situation the same way. Perhaps the couple will start by combining their kids on family vacations and the like, then work their way to one shared house in the future. Perhaps the kids will never all live together. That's for Paltrow and Falchuk to decide.
Speaking as the former kid of a blended family, and one that was suddenly thrust upon me — after all, that's how most people do it — I think Paltrow is super-smart to carefully consider the best way to create an expanded family, rather than just do what other people might expect of her.
This first-time mom wants to have a home birth, but is she ready? Watch how a doula supports a military mom who's determined to have a home birth in Episode One of Romper's Doula Diaries, Season Two, below. Visit Bustle Digital Group's YouTube page for the next three episodes, launching every Monday starting November 26.