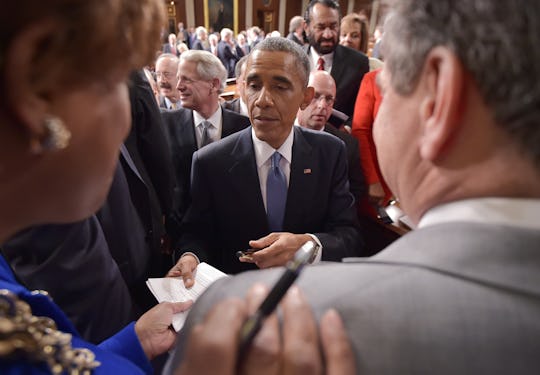 MANDEL NGAN/AFP/Getty Images
The Reason Obama's Lincoln Reference In State Of The Union Is So, So Fitting
Pundits and political junkies alike were treated to an early look at President Obama's final major address to the nation after the White House released excerpts from his official State of the Union speech on Tuesday. Peppered with references to the refugee crisis and the need for revolutionary change, Obama also chose to cite the legacy of another historical leader in pushing for Congress to adopt his progressive brand of thinking. Given their notable — and sometimes controversial — similarities, Obama's Abraham Lincoln reference in his final State of the Union speech was especially fitting.
"We live in a time of extraordinary change — change that's reshaping the way we live, the way we work, our planet and our place in the world," the president wrote. "... And whether we like it or not, the pace of this change will only accelerate." Obama noted that each previous generation had suffered its share of detractors, many of whom had attempted to thwart cultural and political progress by telling others to "fear the future", but stopped just short of calling out any of his right wing rivals by name.
"[Each time that happened], we did not, in the words of Lincoln, adhere to the 'dogmas of the quiet past,'" Obama added, quoting from the late president's remarks to Congress in December 1862. "Instead we thought anew, and acted anew ... And because we did — because we saw opportunity where others saw only peril — we emerged stronger and better than before."
For a little perspective: At the time of Lincoln's 1862 letter to Congress, the United States was deeply embedded in the Civil War, with terrible losses mounting on both sides. In an address to his fellow politicians, some of whom he referred to as his "seniors" in terms of experience, the late president commented on Congress' seeming unwillingness to rise to the challenge when confronted with his heavy emancipation proposals.
"The occasion is piled high with difficulty, and we must rise with the occasion," Lincoln warned. "... We must think anew, and act anew. We must disenthrall ourselves, and then we shall save our country."
While Obama is certainly no President Lincoln (for many reasons, but most importantly, as The Washington Post's Max Ehrenfreund pointed out on Tuesday night, his lofty views that idealism precedes compromise), there's a comparison to be made there: The challenges plaguing the country today — humanitarian relief, economic difficulty, and a terrorist front — aren't all that different than those that once faced some of the country's earliest movers and shakers. Given all that Obama faces, even in his final year in office, perhaps it's a good thing that he's hearkening back to a president that was actually able to get it right in the end.
Images: Mandel Ngan/AFP/Getty Images; Mandel Ngan-Pool/Getty Images