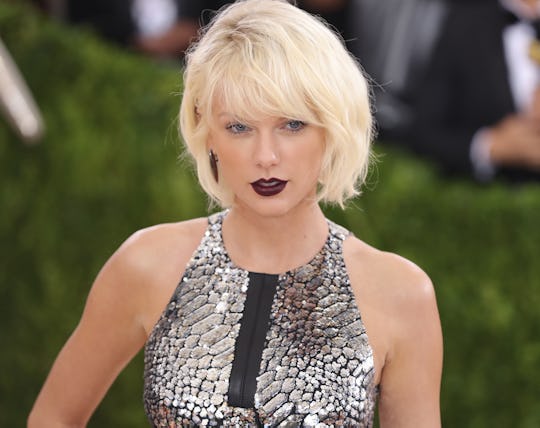 Neilson Barnard/Getty Images Entertainment/Getty Images
The Reason Taylor Swift Didn't Report Her Alleged Assault To The Police Is Heartbreaking
Testimony has begun in a federal court case between Taylor Swift and a Denver radio personality alleged to have groped the singer during a 2013 meet and greet, and the reason Taylor Swift didn't report her assault is heartbreaking. According to BuzzFeed, the singer's mother, Andrea Swift, told the jury, "I did not want this event to define her life. I did not want every interview from this point on to have to talk about it… I did not want her to go through the endless memes and trolls and make her relive that awful moment."
Frank Bell, a liaison between Swift and the local radio stations, also testified he shared a photograph of the alleged assault with the DJ's employer, rather than the police, because "it was very embarrassing and humiliating." The DJ, David Mueller, filed a $3 million defamation suit against Swift in 2015, claiming that he was fired over false allegations that he reached under Swift's skirt and groped her bare buttocks, according to E! News. Mueller's attorney declined Romper's request for comment.
Once the incident became public, Swift filed a counter suit alleging sexual assault. The Associated Press has reported that Swift is seeking $1 in damages, and her goal is to serve as an example for sexual assault victims. Mueller claims that he is innocent, and no criminal charges have been filed.
Sadly, if Mueller hadn't sued Swift to begin with, she may have stayed silent on the matter. According to Reuters, Swift's mother testified that after the photo opportunity during which her daughter claims she was assaulted, the singer thanked Mueller and his girlfriend, and concluded, "Why did I teach her to be so polite?" In fact, there is no "normal" or "right" way to respond to assault, and it's common for victims to enter a state of shock afterwards. Feelings of embarrassment are also common, but it's important for victims to know that while their feelings are theirs alone, there's nothing for them to be ashamed of.
Groping might not seem like a big deal to some people, especially as it compares to other types of sexual assault. But make no mistake: it counts and should not be downplayed or compared to other types of violent assault. The U.S. Department of Justice defines sexual assault as "any type of sexual contact" without consent, which means touching various body parts, including the buttocks, "with an intent to abuse, humiliate, harass, degrade, or arouse or gratify the sexual desire of any person." By its very nature, sexual assault is less likely to be reported than other crimes, because victims are humiliated. Swift should be commended for rising above those feelings in order to show other women that if another person touches them inappropriately, the only one who should be ashamed is the perpetrator.