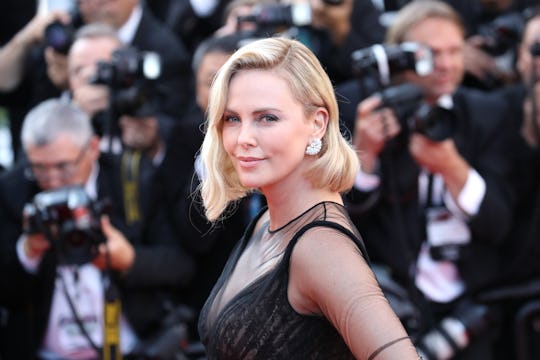 Chris Jackson/Getty Images Entertainment/Getty Images
The Reason Charlize Theron Hasn't Dated Much After Kids
Charlize Theron has always been a great role model when it comes to being a badass single mom: when the South African actress decided she wanted to start a family in 2012, she did just that, and she's been raising two adopted children on her own for several years now. And now, the Atomic Blonde star has given fans one more reason to love her: recently, Charlize Theron talked about dating as a single mom, and her description of the joys and challenges that come with it were so relatable.
The world has been buzzing about the mystery man Theron described going on an "incredible" date with — the first time she's talked about dating since breaking off her engagement with actor Sean Penn in 2015 — but on the Howard Stern Show on Wednesday, she made it clear that, no matter how great a potential partner is, her kids come first.
"Once you have children, that's who you are. There's no way around that. That's who I am," Theron told host Howard Stern, according to People. And whoever she does decide to eventually date will have to put in some time before they get to meet her two kids, with Theron saying:
They have to wait a long time — a very long time. I think you have to be really, really slow with that stuff.
It's not the first time Theron has spoken about the boundaries she's set in her dating life thanks to her kids. Speaking to The Wall Street Journal last year about her breakup with Penn, Theron said, "When you're with somebody and it comes to kids, you can't bullsh*t." She continued:
The stories saying that Sean was going to adopt Jackson and all of that were not true. It's not something that happens in 18 months. You can't do that to a child. So there was an understanding that I was a single mom with a very young boy who I had to put in a situation where he understood that Mommy dates but that he does not have a father, you know what I mean? You have to be very careful and very honest about that stuff.
Clearly, for Theron, dating as a single mom means having a few more boundaries in place. That decision makes perfect sense, too: she described her children as "these things that you love more than anything in the world" to The Wall Street Journal — a feeling parents everywhere can relate to — so those stricter limits have simply become part of her dating life, rather than the burdens many imagine them to be.
If you're lucky, having your priorities in order that way can even help you weed out those who aren't the right fit — and isn't that what we all want when it comes to dating?