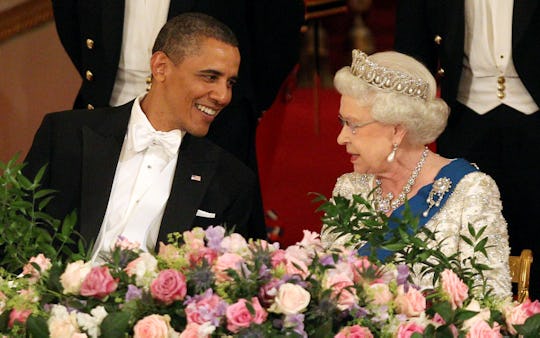 WPA Pool/Getty Images News/Getty Images
The Reason Why Obama Loved Meeting The Queen Will Immediately Warm Your Heart
President Barack Obama may no longer be the President of the United States, but he still has a fair number of fans who are always interested in what he's up to. People are also curious to know more behind-the-scenes details about Obama's life during his time in office, and a new book by Obama's former national security advisor Ben Rhodes gives them just that. For instance, when he and his wife, Michelle Obama, met Queen Elizabeth II during their visit to Buckingham Palace in 2011, Obama was reportedly "wonderstruck" by her, which is not something his fans have probably heard before now. But the other reason why Obama loved meeting the queen at Buckingham Palace so much will instantly warm your heart, and might even make you want to quickly make a few phone calls to some beloved family members.
Rhodes's new book, The World As It Is: A Memoir of the Obama White House, is out Tuesday, and in it, the security advisor reportedly revealed that Obama really enjoyed meeting the queen, according to People. In fact, Obama liked her so much that he compared her to his own beloved grandmother. You really can't get higher praise than that, and it's a truly sincere compliment on the former president's part.
According to Rhodes in his book, as People reported, Obama said of Queen Elizabeth:
I really love the queen. She's just like Toot, my grandmother. Courteous. Straightforward. All about what she thinks. She doesn't suffer fools.
And how sweet is it that Obama calls his grandma Toot? That's actually one "grandma name" I hadn't heard before, but it's truly adorable. And really, that description does sound quite a bit like the queen and what we know of her personality. On her diamond jubilee celebration day, The Guardian's Simon Jenkins described her as "studious" and "stoic," for instance. Even when she was young, the Culture Trip reported that Queen Elizabeth was "quiet and reserved," especially compared to her husband's more "boisterous" ways.
So "straightforward" and "doesn't suffer fools" are probably not exactly new descriptors for the monarch. But it was the comparison to his own grandmother by Obama that really made the comment stand out.
This is, of course, not the first time people have heard about Obama saying kind things about the queen. In the video above, Obama spoke about Queen Elizabeth in recognition of her 90th birthday, and said she is one of his favorite people. He went on to say:
Should we be fortunate enough to reach 90, may we be as vibrant as she is. She's an astonishing person, and a real jewel to the world, and not just to the United Kingdom.
But even that is not as lovely as comparing the monarch to his own grandmother. If you've got a grandmother that you adore, you probably have some idea just how touching Obama's comment about the queen really is.
Rhodes' book also outlined a funny anecdote about a conversation he and Obama once had about Queen Elizabeth. Rhodes reportedly wrote that he jokingly said to Obama that the monarchy maybe "really is a dying empire," but that Obama didn't agree, as People reported. He laughed, then said, according to People:
No, they've still got a lot going on. Did you see the bling on the queen?
And although Obama may be willing to poke fun in that way, it's clear that he holds the queen in very high regard. He wouldn't be comparing her to his "Toot" — which is apparently from the Hawaiian word for grandmother, tutu — if he didn't.
Obama was in fact raised by his grandparents for several years, according to NBC News. Anyone he's willing to compare to a person who helped raise him and shape him into the world leader he became has got to be pretty special in his book.