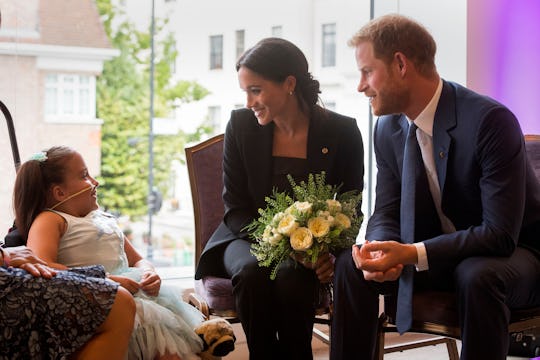 WPA Pool/Getty Images Entertainment/Getty Images
The Reason Why Prince Harry Made A Pinky Promise With This Young Girl Will Warm Your Heart
Everyone who meets Prince Harry ends up walking away with a story, but some are definitely cuter than others. And right now, people can definitely use some extra doses of cute in their life. And the reason why Prince Harry made a pinky promise with a girl who has spina bifida will do the trick, because it is so cute, it'll keep you smiling all day.
On Tuesday, Sept. 4, Prince Harry and Meghan Markle attended the WellChild Awards. As outlined by the organization's website, the WellChild awards celebrate the inspirational qualities of the United Kingdom's seriously ill children and young people, along with those who go that extra mile to make a difference to their lives."
The royal couple ended up attending a pre-ceremony reception to meet the winners of each category and their families, according to Hello! Magazine. And one of the young children they met was 7-year-old Matilda Booth, who has spina bifida and is paralyzed from the waist down, as reported by People. During the ceremony, Booth was present with her mother, Sharon, who said, according to People, that they were "really nervous when we got there but [Harry and Meghan] made us feel so much at ease. They were both so nice."
Prince Harry ended up sharing his own moment with Booth.
In the video, linked above, Markle can first be seen greeting Booth and her mother, a Prince Harry comes in towards the short clip's end.
During their meeting, People reported that Prince Harry kneeled down and, at one point, told Booth to never stop smiling. According to People, Booth's mother recalled, "He made her 'pinky promise' to always keep that beautiful smile."
It is definitely an adorable moment, although it shouldn't come as a surprise; Prince Harry has long been known for being a great uncle to his niece and nephews. For instance, in an interview with the Daily Mail, Prince Harry reflected on his place as fifth in line for the throne, saying, "the reason I am now fifth is because of my nephew and niece and I could never wish them away. They are the most amazing things ever."
Once, Prince George famously revealed Prince Harry's tendency to be the somewhat rowdy, fun loving uncle. After the royal family received a visit from the Obamas, Michelle Obama herself recounted the adorable story. She said, according to Grazia:
I have to say that the most precious thing — if you haven't already fallen in love with [Prince Harry] is to see him with his nephew. Because all throughout, [Prince George] was like, "Uncle Harry, why are you so quiet? Why are you so quiet?"
Seeing how great Prince Harry is with kids makes people wonder, again, just how awesome of a dad he will be, whenever that day may come. But it is pretty much a given that Prince Harry and Meghan Markle want to have their own family at some point.
In March 2018, one royal correspondent tweeted, "Harry and Meghan met a husband and wife who make baby products such as hypoallergenic Moses baskets and non-slip baths. Pointing to the product range, Meghan said: "I'm sure at some point we'll need the whole (lot)."
Although obviously no one besides the royal couple themselves knows when they intend to have children of their own, people are definitely waiting on the edge of their seats to celebrate their family.
But, in general, it's always sweet to see people interacting so genuinely with children. This might have looked like a simple exchange, but it clearly meant a lot to everybody present.