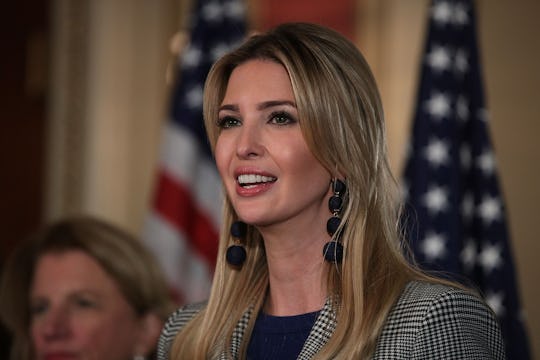 Alex Wong/Getty Images News/Getty Images
Here's Why You've Been Seeing Celebrities Posting Messages To Ivanka Trump All Weekend
While she may not have always been involved in politics, the first daughter is now entrenched in a world where she actually has a lot of power to change things. So, the reason you've been seeing celebrities posting messages to Ivanka Trump on social media all weekend is super inspiring, and really important as well. Here's what's been happening.
As you probably already know, in September, President Donald Trump made the decision to end the Deferred Action for Childhood Arrivals (DACA) program, a highly controversial move. As CNN reported, DACA protected almost "800,000 young undocumented immigrants brought to the US as children from deportation."
And while Trump also gave Congress a window to save the program, a Dec. 8 deadline to pass a spending bill puts even more pressure on Congress to come to some sort of agreement about DACA. Further complicating matters is the DREAM Act, which "is a bill designed to protect undocumented minors who receive legal status through" DACA, according to Glamour. As of yet, no version of the bill has been passed by Congress, and the act that's currently up for debate would grant DACA recipients a green card and help them along a clear path to citizenship. Clearly, it's an important piece of legislation and one that impacts many young lives.
So, when a handful of celebrities noticed that Ivanka followed them on Instagram, they decided to use their platform for good.
A number of female celebrities who are known to be politically active were sent the above image, as Sophia Bush noted, who commented on her own post explaining how she got the image. The photo has an important message for the 36-year-old first daughter, which reads:
Dear Ivanka, I see you're following me on Instagram. This Thanksgiving I would be grateful if you use the influence you have to advocate for a CLEAN Dream Act by December. Every day that passes without a clean Dream Act means anxiety and deportation for immigrant youth. 7,901 youth have already lost DACA and 122 more will use it each day. Thank you and Happy Holidays.
Bush along with Cara Delevingne, Olivia Wilde, and Amy Schumer are among the celebrities who posted the message, each with varying captions.
Clearly, the celebrities are hoping that their status will appeal to Ivanka's heart and that maybe she'll be able to speak up about the importance of a clean DREAM Act. And truly, it is an important piece of legislation that could end up ruining or even ending lives for those involved. According to CNN:
As many as 983 undocumented people previously covered under DACA would lose their protected status every day -- nearly 30,000 people a month, on average, for the two years following the six-month delay in the termination of the program, according to a CNN analysis of Department of Homeland Security data.
So, yeah, the need for Congress to pass a clean DREAM Act really can't be overstated, and it's kind of awesome that so many celebrities are calling upon Ivanka to at least try to do something.
In an April interview with Gayle King, Ivanka explained that she doesn't always agree with her father, amidst criticisms that she was complicit in what was happening in the United States. According to CNN, she said:
I think there are multiple ways to have your voice heard. In some cases, it's through protest and it's through going on the nightly news and talking about or denouncing every issue on which you disagree with. Other times, it is quietly and directly and candidly. So where I disagree with my father, he knows it. And I express myself with total candor. Where I agree, I fully lean in and support the agenda and hope that I can be an asset to him and make a positive impact.
Hopefully, these Instagram messages to Ivanka will inspire the presidential advisor to speak up, stand up, and do something. Children are involved, and anytime they are, the stakes are raised. Maybe the celebrity Instagrams will help Ivanka realize that, and that she can no longer be complicit in what's happening.