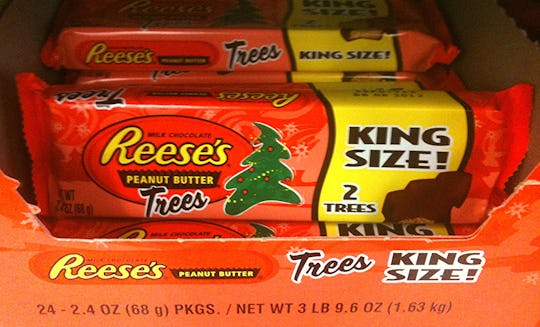 JeepersMedia/Flickr
The Reese's Tree Controversy Is Taking Over Twitter, & These Are The Most Hilarious Responses So Far
If you've ever checked out at a convenience store during the holidays, you've probably seen a display of Reese's Trees arranged right on the counter. These seasonal treats beckon chocolate and peanut butter fans with their holiday spirit, but some treat seekers aren't feeling them this year. CNN reports that Reese's didn't nail the tree shape, and the Internet is straight-up outraged.
When someone unwraps a Reese's Tree, they may expect a shape similar to the cookie cutter perfection shown on the package. Instead, social media has been inundated with images of trees that look more like ovals. The candies have drawn unflattering comparisons to everything from blobs to droppings. Whether you're following the conversation due to personal outrage or just for the fun of it, thoughts shared on Twitter are making us genuinely laugh out loud.
Several people tried to determine exactly what the trees look like:
One investigator tried to find out but got a bit... sidetracked:
And another person took matters into their own hands, and showed Reese's how it is you make a damn chocolate tree, anyway:
One Twitter user remains super concerned, but for an entirely different reason:
Of course, some people are just ready for this conversation to be over:
And there are plenty of people ready to support disappointed Reese's customers in their time of need:
No matter the shape, Reese's trees are still a staple of holiday life:
Yep; sounds about right. Reese's trees are always a good idea. Actually, Reese's anything is always a good idea.
Image: JeepersMedia/Flickr