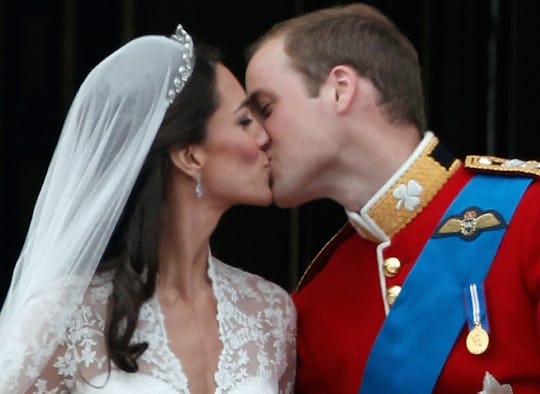 Christopher Furlong/Getty Images Entertainment/Getty Images
Here Are The Religious Rules For Royal Weddings
No matter how you feel about celebrities or royals or reality television, there's no denying the fact that the upcoming royal wedding is kind of a big deal. Even those who claim they couldn't care less about the royal wedding have to admit that May 19, 2018, will be a historical day. And the religious rules for royal marriages will make that day even more important. Yes, as amazing as it is that a British prince is about to marry an American actress, all the rules surrounding what's about to happen make it even more special.
Because, the thing is, the royal family's religion is kind of a big deal. But really, the main issue with religion and royal weddings is that it's a fairly recent change in rules that allow a member of the royal family to marry someone Catholic. As TIME reported, "Until 2015, Prince Harry would have been forbidden from marrying a Catholic under royal succession rules, as his grandmother is head of the Protestant Church of England."
Yeah, Queen Elizabeth II is also known as "Defender of the Faith and Supreme Governor of the Church of England," according to the official royal website. So her grandson, Prince Harry, marrying someone who was raised Catholic, Meghan Markle, makes their wedding an even bigger deal.
But fortunately, that 2015 change in law now makes it possible for a member of the royal family to marry someone who is Catholic, although that doesn't mean that the royals themselves will ever be Catholic. As People reported, "under the law, should the children of an heir be raised Catholic, they would not be able to inherit the throne." Of course, this is sort of a moot point, as any children Prince Harry has with Markle will be very far down the line of succession, so their chances of being king or queen are practically non-existent.
However, just because Prince Harry is allowed to marry Markle doesn't mean that their wedding won't be religious. Of course, it's impossible to say what Prince Harry and Markle's wedding ceremony will be like until it actually happens, but considering the prince's brother's wedding, it's a safe bet that the event will feature a fairly blatant religious undertone. As The Telegraph reported, the royal wedding between Prince William and Kate Middleton featured several religious aspects. First, there was an entire procession of the clergy before the ceremony, hymns and bible verses were recited, there was prayer, and the wedding vows were extremely religious, per The Telegraph.
But that's not all. Before Middleton got married on April 29, 2011, she was confirmed by the Church of England in a private ceremony on April 10, 2011, according to BBC. Additionally, the BBC also reported that the ceremony was conducted for several reasons. First of all, a St. James Palace spokesperson told the publication, "Miss Middleton, who was already baptised, decided to be confirmed as part of her marriage preparations."
Additionally, though, it appears as if the royal couple knew they would be dealing with a lot of religious events once married, and they were also aware that "Members of the Church of England usually only receive Holy Communion after they have been confirmed," per BBC. So, Middleton likely got confirmed because of the fact that her soon-to-be husband would one day be King of England, and she would need to be in line with him, religiously speaking.
So, will Markle do the same? It's kind of hard to say, since Prince Harry is sixth in line to the throne, and therefore there's a lot less pressure this time around. What's clear, though, is that Markle's own Catholic upbringing could have been a problem before 2015, and despite her own religion, their wedding ceremony will probably feature plenty of religious aspects.