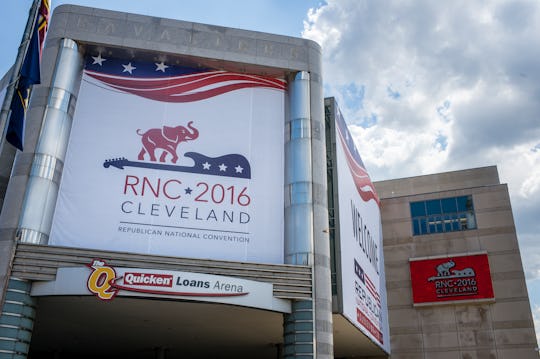 Angelo Merendino/Getty Images News/Getty Images
The Republican National Convention Schedule Is Jam-Packed To Pump Up The GOP
The time has come. The Republican National Convention is upon us. Real estate mogul Donald Trump has been the "presumptive Republican nominee for some time, but in the coming days he's set to become an official, endorsed presidential candidate. It's happening. The RNC is not open to the public, but there will be plenty of media coverage of the next week's events. So what is the Republican Nation Convention Schedule? There's a lot going on.
But first, who will be attending: besides Trump, his staff, and his family, the RNC will be peopled with 2,470 delegates, 2,302 alternate delegates, 15,000 members of the media and many leaders in the Republican Party, according to NPR. They'll all be descending on this year's host city, Cleveland, Ohio. As one might imagine, the four days of RNC madness, beginning July 18, will be full of speeches and pomp.
Rumors are still swirling about who might be taking the stage at the convention. According to The Atlantic, Trump's family will be there to support him. Melania, Ivanka, Eric, and Donald, Jr. are all slated to speak. As for star-power, there are reports that football star Tim Tebow will even be there, along with other sports names, like former Indiana basketball coach Bobby Knight and boxing personality Don King.
There will be a number of GOP members or supporters speaking on Trump's behalf: Former candidates Texas Sen. Ted Cruz, former Arkansas Gov. Mike Huckabee, retired neurosurgeon Ben Carson, New Jersey Gov. Chris Christie, and Wisconsin Gov. Scott Walker are reportedly going to give speeches. But, John Kasich, the governor of the hosting state, is not listed as a speaker, nor is Indiana Gov. Mike Pence, who had been rumored to be a possible pick for Trump's vice president. Sadly, Sarah Palin will not be speaking, nor will Trump critic Mitt Romney or Arizona Sen. John McCain, according to The New York Times. Regardless, things should get interesting.
While the more high profile events are next week, already the convention is under way. The platform committee for the Republican Party met on Monday and Tuesday, according to Newsday, and the convention rules committee is scheduled to meet Thursday and Friday. That meeting is going to be a bit more exciting that usual because a group of diehard anti-Trump delegates are pushing for something called a "conscious clause," according to the Washington Post. That would allow delegates to vote for whichever candidate they liked and not be bound, as a party, to Trump. That effort is being spearheaded by Kendal Unruh, a delegate from Colorado. She's got to convince 28 members of the committee of 112 people to join her side before Monday. According to NBC News, she's already got that many commitments.
Monday, July 18
The convention kicks off. According to The New York Times, this evening's events will center on Benghazi, border control, and immigration. The speakers lined up are Arkansas Sen. Tom Cotton, former Mayor of New York Rudy Giuliani, and Melania Trump, among others.
Tuesday, July 19
Usually this is when moderators will do a roll call of states, whereby Trump would officially become the nominee for the party. According to The Atlantic, this night's speakers will talk about the state of the economy. Speakers include Arkansas Gov. Asa Hutchinson, Tiffany Trump, Donald Trump Jr., and Wisconsin Gov. Scott Walker.
Wednesday, July 20
Usually, the vice presidential candidate speaks on this night. Roll Call reported Thursday that that would be Indiana Gov. Mike Pence, who wasn't scheduled to speak. But Trump's Senior Communications Advisor said nothing has been confirmed and that Trump's VP would be announced Friday. According to The New York Times, speakers will include Newt Gingrich, Texas Sen. Ted Cruz, and Eric Trump.
Thursday, July 21
Typically, the nominee speaks on the final night, and as of now, Trump is expected to take the stage. Other speakers on Thursday include Tim Tebow, Florida Gov. Rick Scott, and Ivanka Trump.
Many networks are planning on providing live streams of the event. The GOP also announced its release of a mobile app, called RNC 2016, which will allow viewers to follow along with the action.