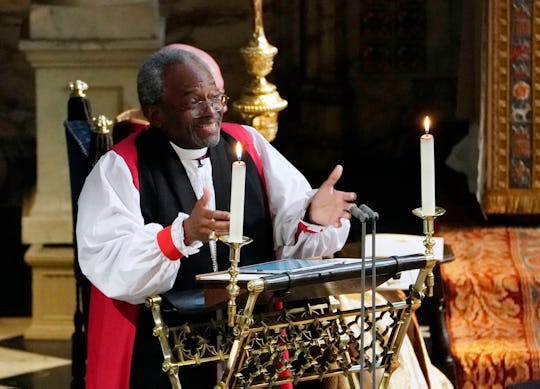 WPA Pool/Getty Images Entertainment/Getty Images
The Reverend From The Royal Wedding Said The *Sweetest* Thing About Meghan & Prince Harry
One month ago, millions of people tuned in to watch American actress Meghan Markle marry the United Kingdom's Prince Harry in a gorgeous fairytale wedding. By watching the couple during their wedding's broadcast, it was clear that they were so in love and wanted the world to know it. But viewers at home weren't the only people thinking that — the people in the royal wedding were thinking it, too. Take it from that reverend from the royal wedding that said the sweetest thing about Meghan Markle and Prince Harry in regards to the love they have for one another. It will make your heart melt.
While the whole entire wedding was gorgeous and truly unforgettable, there were certain people that stole the show — like the American Bishop Michael Curry, who commanded the wedding attendees (and viewers at home) with his powerful sermon. Although it looked like Curry was commanding the room, in a new interview with Us Weekly, Curry told the magazine that Prince Harry and Meghan Markle were the ones in control of the 600 wedding guests, according to Harper's Bazaar.
"They actually love each other," Curry told Us Weekly. "They really do."
Curry elaborated on this, telling Us Weekly that the couple looks at each other "like they love each other." "I remember thinking after the sermon, once I preached the sermon, I said, 'These people two people love each other,'" Curry said. "They look at each other and their love brought the rest of us together."
Curry isn't wrong. Just by looking at photos of the happy couple from before, during, and after the royal wedding, you can tell that they're so in love with each other. If royal watchers can see that kind of connection in photos, then they have to trust Curry's word for it, who was actually in St. George's Chapel and got to be face to face with the very happy couple.
Curry explained to Us Weekly that he believes Markle and Prince Harry's love is so strong, just based on everything they were able to accomplish at their wedding. Curry said, according to Us Weekly:
Their love brought two countries together, in Great Britain and the United States. They brought people of different political persuasions, people of different sexual orientations, people of different classes, people of different races, people of different nations. Their love, even if it was for just a few moments, showed us the power of what unselfish love that gives itself to another can actually do.
Amen. This isn't the first time that Curry has talked about Markle and Prince Harry, his role in the royal wedding, or how the couple's love is so inspiring. In an essay he penned for TIME, just five days after the wedding, Curry said that he "went off script" and quoted Dr. Martin Luther King Jr. during his sermon because Prince Harry and Markle's love inspired him to do it. Curry said of the couple, according to TIME:
They crossed class lines. They crossed political divisions. Everyone who heard those words felt it. That day, everybody was so excited inside St. George's Chapel. We cold all see that this couple was in love with each other. It was obvious — it put a smile on everyone's faces.
Based on the reaction shots taken of the guests in attendance from the televised broadcast of the royal wedding, you could tell that they really were moved — although it is hard to tell if it was from Curry's sermon, the couple's love for one another, or maybe a little bit of both.
Let's be real — no one had doubts about Markle and Prince Harry's relationship or the love that they share. But Curry's words, just two days after the couple's one month wedding anniversary, are a testament to their relationship from a witness who was there for the wedding and got to see their union right before his eyes.