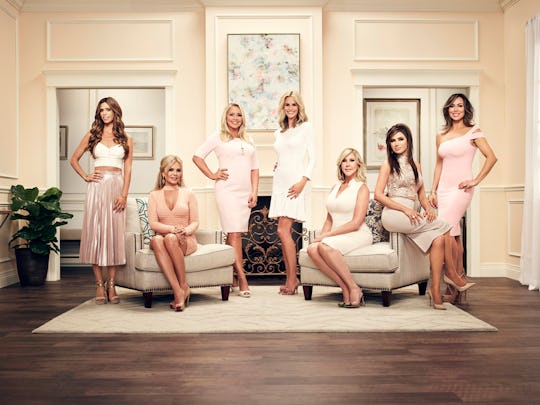 Tommy Garcia/Bravo
You'll Never Guess Which 'RHOC' Cast Member Has The Highest Net Worth
The Real Housewives of Orange County is back for Season 12, and it's back with a vengeance. The drama started from the very first minute and it hasn't let up throughout the early episodes of the season. But arguments at children's parties and gossip in empty conference rooms aren't the only thing this branch of the franchise has to offer. There are all the ginormous houses, flashy jewels, and future jetsetting to keep you entertained until summer ends. But who is paying for all that luxury (aside from Bravo, that is)? The Real Housewives of Orange County cast ranked by net worth shows how much money each woman is working with.
Some Housewives have left and some new Housewives have joined, changing the dynamics and reconfiguring the net worth ranking from previous seasons. Heather "Fancy Pants" Dubrow is no longer around to get lost in her continent-sized mansion, so someone else will have to step up and fill the void. Taking a look at each woman's net worth ranked from lowest to highest makes it easier to see where they all fall on the list of monetary gains. And of course this is all in good fun; the lowest net worth in a group of high net worths is still a pretty swell situation to be in.
Tamra Judge – Estimated $800k
According to CelebrityNetWorth.com, Tamra's net worth clocks in at a cool $800k thanks to her lengthy stint on RHOC and the gym she owns with her husband Eddie, C.U.T. Fitness. She was previously a real estate agent, which may have helped as well.
Meghan King Edmonds – Estimated $5 million
Meghan's net worth of $5 million is probably enhanced by her marriage to Jim Edmonds, who is a Fox Sports announcer and former player for the St. Louis Cardinals. Before RHOC, she was a model, which likely padded her bank account a little bit too.
Peggy Sulahian – Estimated $6 million
A new addition to the cast, Peggy is already making an impact with her countless family cars and stunning jewelry. All that opulence is easily explained by her $6 million net worth, all due to the family business. Peggy's husband Diko Sulahian created the company WTW Corp, or Giovanna Wheels, which custom fits wheels for luxury cars.
Vicki Gunvalson – Estimated $7 million
Vicki's $7 million dollar net worth was certainly supplemented by her time on RHOC, but the business she founded earned her most of it. Vicki owns Coto Insurance and Financial Services – but any viewer could tell you that. It's Vicki's pride and joy, and she never misses an opportunity to bring it up.
Kelly Dodd – Estimated $10 million
Kelly's net worth is reportedly estimated at $10 million and, like many of the women on the show, that number was increased somewhat by her husband Michael. Though retired now, he was the president of educational toy company Leadfrog Enterprises, Inc. But Kelly also earned her own money as well from her time as chief operating officer at the cosmetics company Kiss Me Mirrors.
Lydia McLaughlin – Estimated $15 million
Lydia's $15 million net worth has many sources, including a few different companies and some family money as well. She has a jewelry line called Lydia M Jewelry, but also owns several businesses with her husband Doug: Nobleman magazine, Beverly Hills Lifestyle Magazine, Skylab Media (a web design and digital marketing company), and the art gallery Skylab Modern Art. As if that wasn't enough, Lydia's grandfather Geoff Stirling was the founder of Stirling Communications International, owner of many Canadian newspapers, magazines, radio, and television stations.
Shannon Beador – Estimated $20 million
Shannon and her husband David's joint net worth is estimated to be an impressive $20 million because of his construction company Beador Construction. It's been going strong since 1996, giving the family a nice chunk of change to work with.
Though some women might have more dollars to their names than others, there's no denying that each of the ladies on The Real Housewives of Orange County can afford pretty lavish lifestyles.