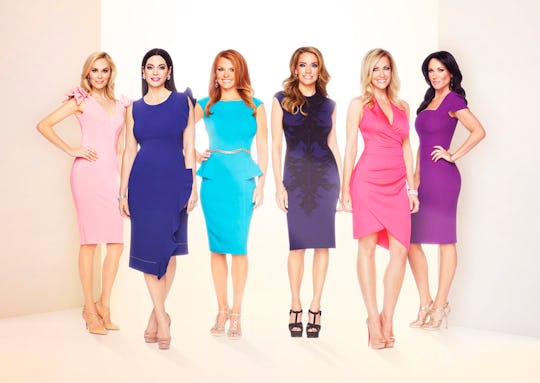 Michael Larsen/F. Scott Schafer/Bravo
The 'RHOD' Cast Ranked By Net Worth Proves These Ladies Are Making Bank
The Real Housewives of Dallas is still a new addition to Bravo's successful franchise of reality TV shows, but it's serving just as much drama amidst just as many luxe locations as any other Housewives show. Looking at the RHOD cast ranked by net worth proves that. The show features countless multi-million dollar mansions (some complete with swimming pools in the living room, which is obviously the ideal place for open water) and gigantic closets full of couture. Everyone bickers over how fancy their zip code makes them, and asking your husband for thousands of dollars via a poster board presentation is just another Tuesday.
The women of RHOD are definitely raking in the cash, whether they acquired it from a lucrative career or they share it with their husbands. Regardless of how the money is coming in, these women have enough dollars to jet off on exciting vacations and throw all sorts of galas to raise even more money. The question of who is the wealthiest has come up on the show before (at least as it relates to the idea of who belongs in "Dallas society" the most), but what could the answer be? It's clear everyone is very well off, but there's no harm in taking a look at the cast of RHOD ranked by net worth from lowest to highest.
Cary Deuber — Estimated $1.5 Million
The-net-worth.com, which one should always take with a grain of salt, estimates Cary's net worth to be around $1.5 million. Cary is a certified registered nurse first assistant and works alongside her husband Mark at his plastic surgery practice while also maintaining her own injectable practice, according to her Bravo bio. She recently decided to take a step back from work to spend more time with her daughter Zuri, but with over a million on hand she'll be just fine.
LeeAnne Locken — Estimated $2.5 Million
There seems to be some debate about LeeAnne's net worth, so it's difficult to say for sure exactly what it is. TheNetWorthPortal lists hers at $3.2 million, while the-net-worth.com claims it's $2.5 million, and Gazette Review has her at $1.5 million. All three figures are nothing to sneeze at, but without further confirmation I'm going to assume she lands somewhere in the middle of the highest and lowest. A former pageant girl (and carny, lest we forget), LeeAnne seems to have made most of her money in acting.
D'Andra Simmons — Estimated $3 Million
According to both What Net Worth and Gazette Review, D'Andra's net worth is around $3 million. A job at her mother's company Ultimate Living has likely set D'Andra up for life, even though the show documents the two women butting heads over work and money on the regular. D'Andra's inherited wealth and steady job (which include her own skincare line, Hard Night Good Morning, within her mother's company) have given her quite the bank balance.
Brandi Redmond — Estimated $3.5 To 4 Million
Brandi is a stay at home mom, but her marriage has definitely contributed to her high net worth, which is speculated to be around $3.5 to $4 million. She's a former Dallas Cowboys cheerleader, which probably didn't earn her a ton of money, but her husband Bryan works for real-estate business Suntex Ventures. His work might cause issues between him and Brandi, as documented by RHOD, but it has bumped up their net worth.
Kameron Westcott — Estimated $4.5 Million
Though Kameron has dreams of a pink dog food empire, right now it seems like the bulk of the Westcott money comes from her venture capitalist husband Court. He's a managing partner in the private investment fund Westcott LLC, which adds to the family's $4.5 million net worth.
Stephanie Hollman — Estimated $18 Million
Stephanie's net worth is estimated to be a staggering $18 million, which is probably why her husband Travis seems able to splurge on random fancy houses he finds on auction. She used to be a social worker but is now a stay at home mom, and it seems the Hollmans' wealth is thanks to Travis' family's locker manufacturing business. When you've made the lockers for everywhere from LA Fitness to college stadiums, it must bring in the big bucks.
While some of the women on RHOD might be swimming in more cash than others, all of them are doing very well for themselves.
Watch Romper's new video series, Romper's Doula Diaries:
Check out the entire Romper's Doula Diaries series and other videos on Facebook and the Bustle app across Apple TV, Roku, and Amazon Fire TV.