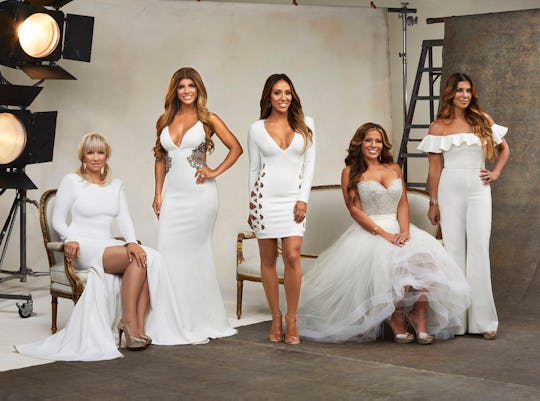 Rodolfo Martinez/Bravo
The 'RHONJ' Cast Ranked By Net Worth Proves These Ladies Are Doing Well For Themselves
The 'Wives of New Jersey have returned to Bravo, and they've brought their enormous bank accounts with them. And because this show is really all about one-upsmanship, I've taking the liberty of assembling the Real Housewives of New Jersey cast ranked by net worth, which proves that these ladies are doing extremely well for themselves. One of the major reasons to watch any of the Real Housewives shows is, of course, to marvel at their wealth, their homes, their vacations, and their jewelry (in addition to all the drama, of course). This naturally leads one to wonder what their net worths actually are.
Though Teresa Giudice and her husband Joe Giudice were both convicted for fraud and sentenced to prison, her bank account doesn't seem to have taken as much of a hit as you might think. She has published two books since her release, Turning the Tables and Standing Strong, and generally seems to be making this whole former felon thing work for her. But don't worry about her costars either, they are right behind her in terms of personal affluence.
Starting from the lowest net worth and going straight to astronomical, here are your New Jersey Housewives. (Keep in mind, these numbers are merely estimates and could be very well be subject to change in the future).
Melissa Gorga
Sister-in-law to OG New Jersey Wife Teresa, Gorga is worth roughly $1.5 million according to TheRichest, which is about 1.5 million more dollars than I have ever seen in my life. Gorga is married to Giudice's brother, Joe Gorga. Last season, viewers saw her open her own store, Envy by Melissa Gorga. It's too early in the life of her business to imagine that it is the major source of her income, so one can assume that this was built up both by her own celebrity status as a Housewife and her husband's job as a real estate developer or contractor, depending on who you ask.
Dolores Cantania
Next in our rankings comes Dolores Cantania in her sophomore season as a cast member on the show. She is reportedly worth $3.5 million according to TheNetWorth. Cantania describes herself as the living embodiment of a modern day housewife. She started her career as a corrections officer, then moved on to the real estate world where she stayed for 15 years. Most recently, she opened two Powerhouse Fitness Centers. Get it girl.
Siggy Flicker
Billed as a "relationship expert" Flicker has amassed a net worth of approximately $5 million according to TheNetWorth, through motivational speaking engagements, television appearances, and book sales. And she's not exactly shy about her accomplishments stating in her Bravo bio, "Siggy truly practices what she preaches and inspires others simply by having created a life doing what she loves to do..." Well, it seems to be working for her!
Teresa Giudice
The Grande Dame of New Jersey herself, Giudice has not let even the most brutal of setbacks get in the way of her financial success. According to TheRichest, Giudice is worth an estimated $11 million. Some of this was earned by her husband, Joe Giudice, but Teresa has definitely been a significant contributor to their wealth. Early in her Bravo career, she published cookbooks like Skinny Italian, and most recently has decided to open a restaurant with her brother Joe Gorga.
Margaret Josephs
This may be Josephs' first season on The Real Housewives of New Jersey, but she is coming in swinging. Her net worth is hard to pin down precisely, but is estimated to be somewhere between $16 million and $30 million. She made her money through her company called the Macbeth Collection, though this business has not been without some controversy. Clothing company Vineyard Vines reportedly sued the Macbeth Collection for "trademark infringement," according to legal documents obtained by In Touch Weekly. The judge ordered Josephs to pay the company $300,000 in damages, though allegedly she has yet to pay the full amount. I wonder if we'll see any of this drama unfold on the show.
Suffice to say, it's clear that these women all have a lot of money. And I love to watch them spend it.
Watch Romper's new video series, Romper's Doula Diaries:
Check out the entire Romper's Doula Diaries series and other videos on Facebook and the Bustle app across Apple TV, Roku, and Amazon Fire TV.