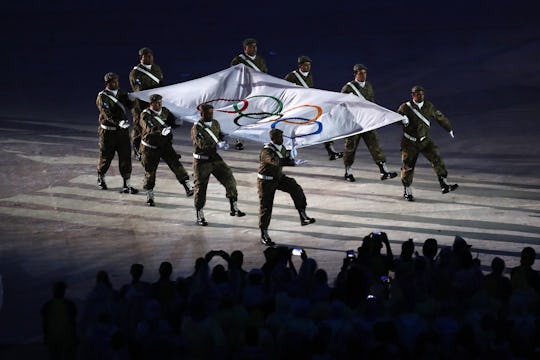 Bryn Lennon/Getty Images Sport/Getty Images
The "Rio 2016" Sign During The Closing Ceremony Performance Was The Perfect Farewell
After two weeks of world-record setting performances, incredible acts of sportsmanship and just all-around awesomeness, the Olympic closing ceremony was the perfect way to top it all off. From singers to dancers and strategic placement of cute kids, the theatrics got the crowd going all night. But one moment in particular, the "Rio 2016" sign during the closing ceremony, really seemed to get the crowd fired up.
During the closing ceremony, it seems Brazil totally should have taken gold in the "choreographed shape-making" competition. Their performers managed to replicate a cable car going up Sugarloaf Mountain and the iconic Christ the Redeemer statue that welcomes visitors to this year's Olympic host city. Still, the formation that really drew cheers from the crowd and applause from viewers at home was when they formed into a perfect "Rio 2016" sign.
As a whole, the show was filled with subtle symbolism, such as the number of children singing in one choir representing the number of Brazilian states. However, with the "Rio 2016" sign, the meaning was perfectly clear: For better or worse, these Olympic games are leaving a lasting legacy on the people of Rio de Janeiro. For the rest of us at home, who had a better view of Rio that most of us ever had before, it was also the perfect farewell to the host city.
Although the "Rio 2016" sign was a highlight during the Olympic closing ceremony, it certainly wasn't the only one. Many of us at home were also entranced by the Carnival-inspired festivities, final appearances from new global superstar athletes, and the passing of the torch to Tokyo, which be home the Summer Olympics in 2020 for the first time since playing host to the Olympics in 1964.
Despite the general feeling of joy during the closing ceremony, South America's first Olympics certainly was not without controversy... And not just of the Ryan Lochte variety. Whether the Games' impact on Rio would be positive or negative was heavily debated, and fears of Zika loomed, all of which cast a bit of a shadow on the global celebration. Still, the 2016 Summer Olympics were certainly a memorable event for the millions of viewers from around the world who turned in, not to mention the athletes who participated in the games. While we're now saying farewell to Brazil and literally passing the torch to Japan, these games won't be forgotten. Thanks to Rio 2016!