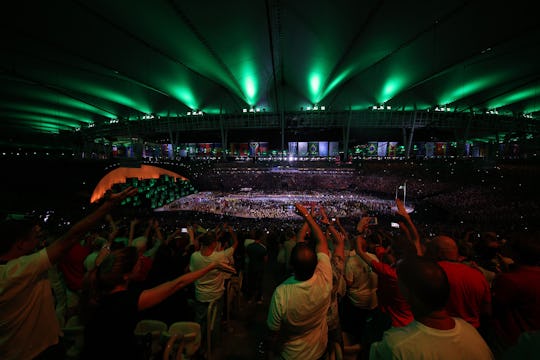 Lars Baron/Getty Images Sport/Getty Images
The Rio Olympics Opening Ceremony Proved Brazil Was The Right Choice
Days before the Olympics, the air in Rio de Janeiro was thick with anxiety. The city's highways were cleared, office buildings stood dark and police scoured its crevices for signs of trouble. As 500,000 visitors flooded Rio this week, Brazilians were busy scrubbing their city clean, weary of what the Games' spotlight would reveal to the world.
For centuries, Rio has seduced foreigners with its curves-- mountains, beaches and forests that roll onto one another. But it's the way the landscape braids into the grimy metropolis that sets it apart. It is a city of contrasts. In Rio, rainforests press up against slums, waves crash onto highways, and waterfalls are a subway-ride away.
Never one to turn down a party, it is appropriate that Rio is hosting the first Olympic games in South America. When Brazil bid for the Olympics in 2009, the country was riding a decade-long commodities boom into international prominence. In less than ten years, Brazil hosted the Military World Games, the FIFA Confederations Cup, the World Cup and World Youth Day.
Seven years later, slammed by the longest recession since the 1930's, a snarling political crisis and an ill-timed Zika epidemic, the country is not in the mood.
Sixty percent of Brazilians think the Olympics are more trouble than they are worth, according to a recent poll. But their guests were at their door, and Rio cautiously let them in.
When the world needs its spirits lifted, it looks to Brazil, for its music, parties and beaches. As Brazil walks through one of the darkest periods in its recent history, the tables have turned. When 12,000 athletes convened in Rio this week, they gave the country what it needed most: A reason to celebrate.
So what did the world see when the lights in Maracana Stadium turned on tonight? Not the "banana republic" Brazil is so often portrayed as. Instead, it was introduced to a country not only capable of throwing a party, but courageous enough to speak about its problems.
Brazil used the ceremony as an opportunity to address slavery, poverty, climate change, and socioeconomic divides.
"The world is very tense and so is Brazil,"Fernando Meirelles, one of the directors of the show, told NBC. " The world is threatened because of global warming. We are calling for action," he said.
Tonight, Brazil revealed a culture that grew out of the cracks of society. A samba and funk born from the misery of the favela, and capoeira, invented by slaves training for revolt. Brazil is home to the largest slum in Latin America and the world's seventh wealthiest economy. It houses the globe's most expansive rain forest and some of its most polluted bays. The country holds records for the world's happiest people and one of the highest crime rates.
Together, these contrasts make for a rich and complex culture that cannot not be reduced to feathers and a soccer ball.