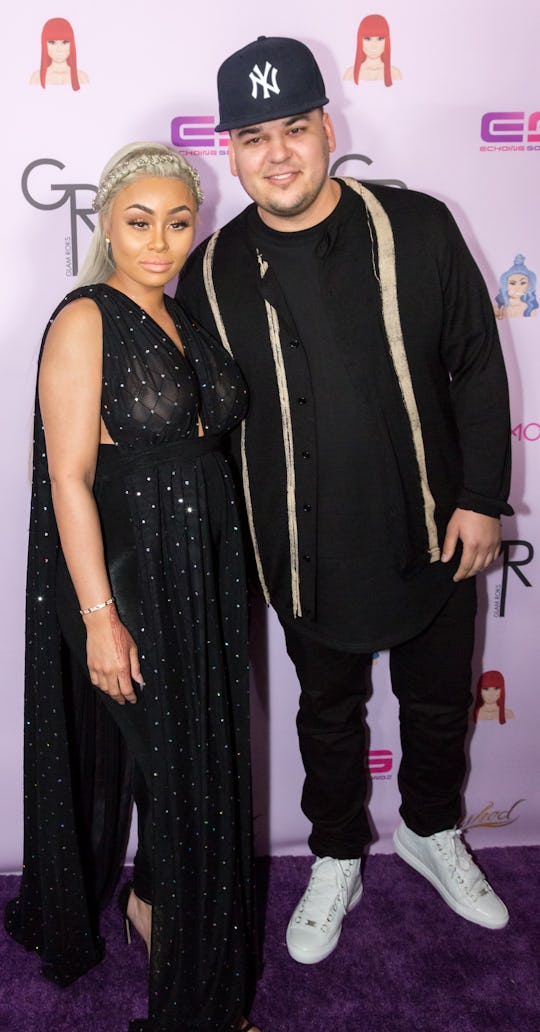 Greg Doherty/Getty Images Entertainment/Getty Images
The 'Rob & Chyna' Trailer Is Here & It Looks Just As Dramatic As You'd Expect
The Kardashians have been building their reality TV empire for over 10 years now. With their original reality series Keeping Up with the Kardashians – now in its twelfth season – and a slew of other spin-off shows, the Kardashian-Jenner clan has arguably become the royal family of reality TV. Now, a new series is being added to the family's ever-growing roster. The Rob & Chyna trailer is here and the lovebirds' show looks just as chaotic and dramatic as we thought it would be.
The newest E! reality series was first announced back on June 1 by Variety, when the show was greenlit by E! Network – an unsurprising venue, given that E! has housed every other Kardashian series that has aired so far. The show is produced by Bunim/Murray Productions and Ryan Seacrest Productions – again, unsurprising, given that these two production companies have also produced KUWTK and every other spinoff – and will focus on youngest Kardashian sibling Rob Kardashian and his fiancé, Angela Renée White (aka, Blac Chyna), in the months leading up to their wedding and the birth of their first child. The six-episode season is set to be followed by a special documenting the birth of the newest Kardashian baby.
Of course, given the dramatic origins of the soon-to-be Mr. and Mrs. Kardashian's love story – she is the ex-fiancé of Rob's sister Kylie Jenner's current boyfriend, Tyga, and the two share a child – and the former feud between Blac Chyna and the rest of the Kardashian family, we were all totally expecting the trailer and show to be dramatic. Normal Kardashian drama, dialed up to 11. Jeff Olde, the executive vice president of E!, even commented on the "pop culture buzz" surrounding the relationship when giving a statement after the greenlit series was announced:
"Very few love stories have created as much pop culture buzz as Rob and Chyna's, and we are thrilled to see Rob in such a happy place. We are excited to share the next chapter in their relationship."
Pop culture buzz indeed.
Sure enough, the first teaser trailer, though only 30 seconds long, is already chock full of a roller coaster ride of emotions. In it, we see the couple share sweet moments (such as Rob commenting that he fell in love with Chyna because of "how good and loyal" she is) only to immediately swerve into what's definitely going to be the first iconic moment from the show: Chyna furiously screaming into her phone "Are you still texting bitches? Yes or no?" (ostensibly directed at Rob) and throwing a bouquet of flowers (ostensibly from Rob) into a pool. It even appears as though Chyna locks Rob out of the house at one point, though that could easily just be tricky editing.
We also see Rob kissing Chyna's belly and telling her that he also wanted to be a father after she asks him if he's ready to be a daddy, and Rob working out to get back in shape after his dramatic weight gain over the past few years.
While every other Kardashian-Jenner spin-off so far has been solely focused on the Kardashian sisters and/or their business endeavors – usually a pair of them "taking on" a brand-new non-Calabasas, California locale, i.e., New York, Miami, or the Hamptons – Rob & Chyna won't be the first spin-off centered around a Kardashian and their partner. Khloé & Lamar ran for two seasons on E!, from 2011 to 2012, and focused on Khloé Kardashian and her then-hubby Lamar Odom.
Rob & Chyna is set to premiere at 9 p.m. ET on September 11 on E!.