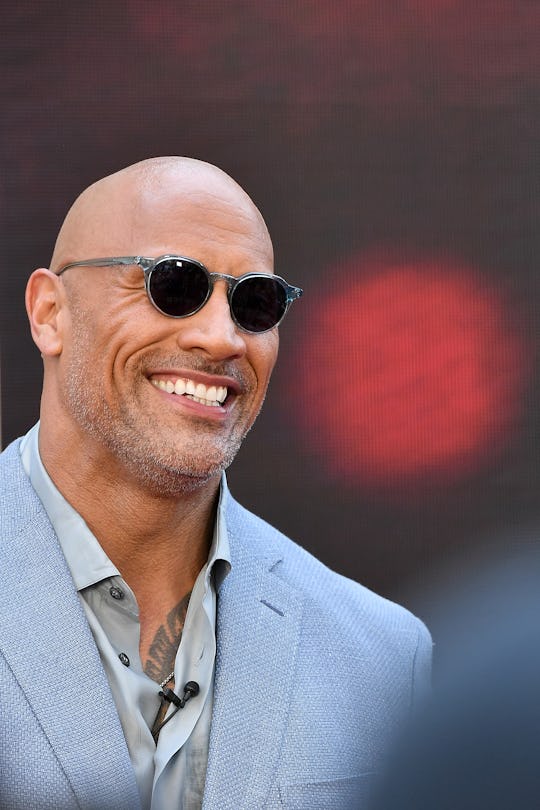 Michael Loccisano/Getty Images Entertainment/Getty Images
'The Rock' Called Himself The 'Sexiest Daddy In the World' In An Adorable Video & Um, Yes.
It's safe to say that Dwayne "The Rock" Johnson is a very popular celebrity dad. And when he pulls moves like the one he recently did on his Instagram, it's easy to see why. "The Rock" called himself the "sexist daddy in the world" in a super sweet, rare video with his daughter, Tiana, and it will make you melt. Much like many things Johnson does.
Johnson has three daughters — along with baby girl Tiana, there's 16-year-old daughter Simone, who he had with ex-wife Dany Garcia, and 2-year-old Jasmine, who he shares with girlfriend Lauren Hashian, according to Men's Health.
Johnson and Hashian welcomed Tiana back in April, and at the time, Johnson posted a very sweet Instagram announcing her birth. Among other things, Johnson wrote on the post, "Blessed and proud to bring another strong girl into this world...I was raised and surrounded by strong, loving women all my life, but after participating in baby Tia's delivery, it's hard to express the new level of love, respect and admiration I have for @laurenhashianofficial and all mamas and women out there." And to his baby girl, he wrote specifically, "I'll love, protect, guide and make ya laugh for the rest of my life."
Johnson is clearly sticking by that statement, if a video he shared to his Instagram profile on Thursday is any indication. In the video, he's holding Tiana and addressing her directly, and the statements he makes to his daughter in the video are pretty funny.
Johnson started out by saying to his baby daughter, "You have the sexiest daddy in the world," and as she giggles, he continues, "I know, I know. Right? And the coolest daddy in the world?"
But as Tiana starts to gum at her own arm, Johnson continued, "Was your arm cooler? I know, but I can't hear you when you're eating your arm."
The whole video is super adorable, and Johnson admits in the caption of the post that he was just trying to "fish for compliments all day when I hold you in my arms." Tiana clearly got a kick out of it, and you get the sense that scenes like this happen in Johnson's house a lot.
By taking a quick look at Johnson's Instagram, it doesn't look like he posts photos or videos of Tiana very often. In fact, you have to scroll down quite a bit to see another one.
So it's really special that Johnson decided to share this moment with his little girl with the world. To be fair, she's only about 3 months old, and Johnson might choose to share more sweet moments like this as she grows up. But if he doesn't, that's fine too.
Johnson also goes on to ask Tiana whether he's the "smartest daddy in the world," and the whole video is clearly done in jest. There are probably a lot of people out there who agree that Johnson is at least one of the sexiest daddies in the world, though.
Johnson seems very willing to talk about his girls, even if more recent photos of his newborn on Instagram are rare. Johnson recently opened up on Live with Kelly and Ryan about how Tiana's birth "was the most amazing experience" he'd ever seen, and how "beautiful" the whole thing was, according to PEOPLE.
Though he hasn't shared a ton of recent photos of Tiana, Johnson has shared some of his daughter Jasmine on Instagram. On July 14, Johnson posted a funny photo, this time featuring his toddler learning how to swim with her daddy's help.
It's a very cute shot, but the conversation between father and daughter that Johnson alluded to in the caption is what was so hilarious about the post. Johnson wrote:
Great to recharge the batteries this weekend, back home with all my girls and teaching this lil' tornado how to swim. Took my shirt off and she said, Daddy I like it your brown boobies.. 😂🤔 Thank you baby, but daddy has pecs, not boobies. #KickThoseLegs#UseThoseArms#MrBrownBoobs
I mean, that's an easy mistake for a 2-year-old to make, right?
Johnson seems to really enjoy being a dad to his two little girls, in addition to his teenage daughter, Simone. And if he wants to fish for a "Sexiest Daddy" award, he probably won't face much opposition, either from his own kids or from the world at large.