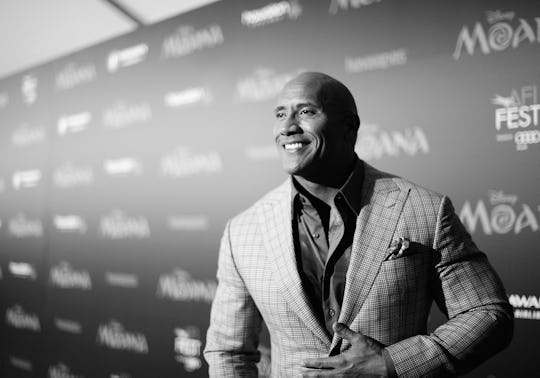 Charley Gallay/Getty Images Entertainment/Getty Images
The Rock Is 'People's 2017 Sexiest Man Alive, & There's A Reason This Is Important
It's been a good year for Dwayne "The Rock" Johnson. He's the highest paid actor going these days and a huge box office draw with his own show on HBO and a stacked schedule for the coming year. Perhaps most anticipated in Johnson's filmography is new Disney movie Moana, for which he lent his voice as the god Maui, but that's not all he has in the works: there's also San Andreas 2, Baywatch, Fast 8, and Jumanji, just to name a few. When it comes to big blockbuster movies, he's cornered the market. Now the Rock is People's 2017 Sexiest Man Alive, and his fans on Twitter think it's about time.
And they'd be right. Johnson is only the second man of color in the magazine's history to be dubbed Sexiest Man Alive, following Denzel Washington in 1996. After starting his career as a professional wrestler, Johnson transitioned into acting roles with 2002's The Scorpion King and hasn't looked back since. But Johnson appeals to his fans not only because of his onscreen roles but because offscreen he comes across as a genuinely nice person. Remember that time he dressed up like a gigantic Pikachu for the amusement of his baby daughter Jasmine? Or when he rescued two tiny puppies from a pool?
When asked about being named Sexiest Man Alive, Johnson tells People, "I said, 'That's awesome.' And then what went through my mind was just how cool and exciting it is. And then I thought, 'Wow, we've pretty much reached the pinnacle.' I'm not quite too sure where we go from here. I've done it all, this is it." Johnson is excited about the title but also aware of how little it changes things on the small scale, telling Ellen Degeneres during the magazine cover announcement that he was still going to have to change diapers – only now he'll be doing it as the Sexiest Man Alive.
Johnson cites his sense of humor and confidence as main reasons why he's earned the affection of his fans, but the ability to relate to them is a big part of things, too. "I think with a lot of my fans, I've gotten to a very, very cool place where there's a direct line between the man they know off-screen and the man they see on-screen," he says.
Being able to come off as authentic despite being a huge star definitely contributes to Johnson's success, and makes him a good choice for the dubious honor of being People's Sexiest Man Alive.