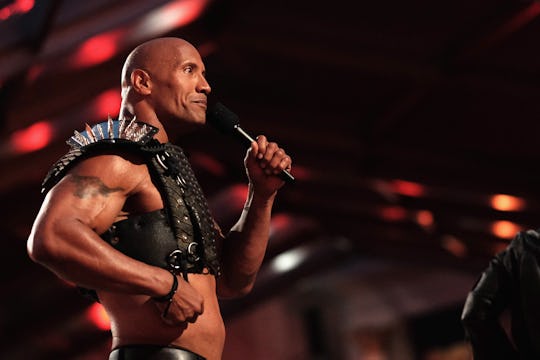 Jason Kempin/Getty Images Entertainment/Getty Images
The Rock Made 'TIME's 100 Most Influential People, & The Reason Shows Why He's A Great Dad
Earlier today, TIME unveiled its annual "100 Most Influential People" list, and while many of the "usual suspects" were there (Presidents, political leaders, influential artists, and the Pope), there were also a plethora of new names and new faces. Among those faces was that of actor, producer, and professional wrestler Dwayne "The Rock" Johnson. But what makes The Rock one of TIME's most influential people, and what does Johnson's appearance say about his parenting?
According to colleague and friend Peter Berg, Johnson is influential because he is an "action hero" and our "future president."
My master plan: Dwayne becomes the governor of Florida in eight years and the President in 12, and he's the best President we've had since Ronald Reagan.
OK, OK. I understand the former is a joke (well, maybe), but Johnson is talented, he is creative, he is a philanthropist, he is a solid businessman — hell, he is a business — and according to Berg, he is open and sensitive. He is genuine, and he is able to laugh at himself. And while some may say the latter doesn't make him super influential, it does make him a good father. It makes him a great dad.
The Rock has two daughters: 14-year-old Simone, whom he had with ex-wife Dany Garcia, and 4-month-old Jasmine, whom he had with longtime girlfriend Lauren Hashian, according to The New York Daily News. And, if there is one thing parents need — especially parents of newborns, toddlers, and teenagers — it is the ability to laugh at themselves and at life. Why? Because life is too difficult, life is too serious, and life is too short. (And yes: that is Johnson dressed up as Superman.)
What's more, Johnson's sensitivity and openness make him accessible. They make him raw, and they make him real. In short, they make him a better dad. I mean, just take a peek at this super sweet Instagram pic of The Rock and his daughter Simone.
Had the best dinner w/ my daughter Simone at one of our favorite spots. Life's crazy and complicated, but this amazing, loving, protective one of a kind father/daughter bond we have keeps me grounded and balanced. #GratefulMan #FatherDaughterBond #LifesBlessings #NowLetsOrderEveryDessertOnTheMenu #CuzWeCray #Prime112
So yeah, while these more personal traits may not be the reason Johnson was named one of the most influential people of 2016, they are the reasons Johnson is a good dad, a loving dad, and one of the most influential figures in his daughter's lives.