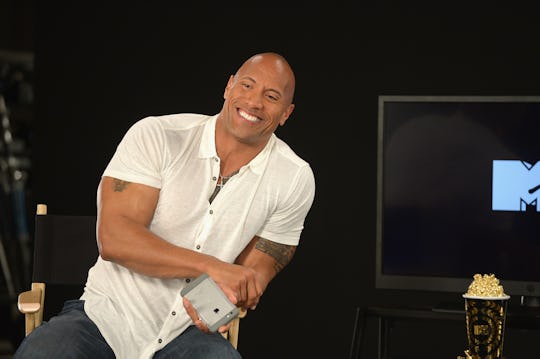 Gustavo Caballero/Getty Images Entertainment/Getty Images
The Rock Said He's A Hufflepuff At The MTV Movie Awards & 'Harry Potter' Fans Dig It
While he was whipping up support from the Harry Potter crowd at the 2016 MTV Movie Awards, Dwayne Johnson revealed he is a Hufflepuff. He broke the news right after his co-host Kevin Hart announced that they'd be screening a preview of Fantastic Beasts and Where to Find Them, the latest movie to come from J.K Rowling and the Harry Potter universe.
"Hufflepuff!" The Rock shouted, raising his hand, and much to Kevin Hart's confusion.
"What'd you say?" Hart asked.
"Hufflepuff!" The Rock replied to cheers from the audience. "They get it. It's a thing with us, Harry Potter fans."
In case you need a quick refresher, Hufflepuff is the Hogwarts house which values hard work, dedication, patience, loyalty, and fair play over any particular talent. For that reason, the badgers get a little bit of a bad rap in comparison to the other Hogwarts houses, even though Hufflepuff counts such lovable characters as Nymphadora Tonks and Cedric Diggory among its members. Since its students are considered to be less competitive, more modest, and good at being impartial, it's a little bit of a surprise that ex-WWE wrestler Dwayne "The Rock" Johnson self-identifies as a Hufflepuff. But maybe he heard that Fantastic Beasts' main character, Newt Scamander, was also a Hufflepuff, and he fancied himself leading man material.
I'm going to go ahead and say that Eddie Redmayne was probably a better casting choice, but Harry Potter fans wholeheartedly embraced Dwayne "The Rock" Johnson. I think any self-proclaimed Hufflepuff appreciates such a proud Hufflepuff announcement, so really, the more the merrier.
Fantastic Beasts and Where To Find Them comes out Nov. 18, 2016. The Rock will not be featured, but he will be there in spirit.