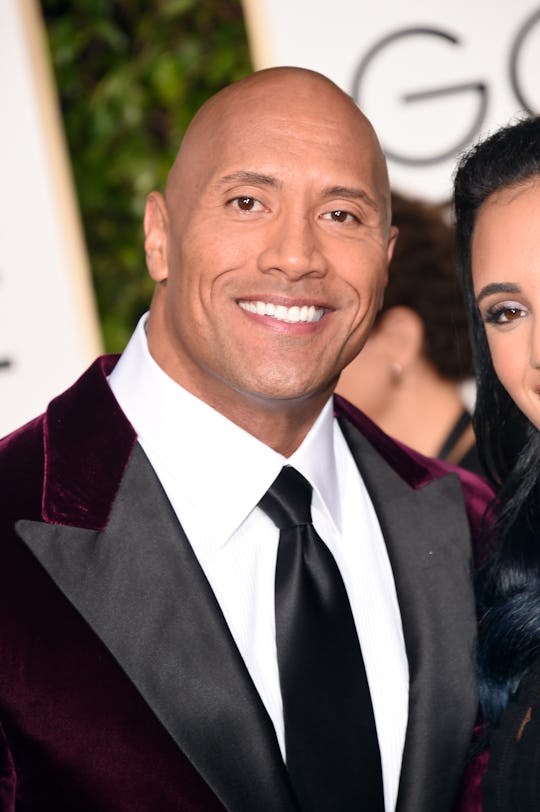 Jason Merritt/Getty Images Entertainment/Getty Images
The Rock Shared A Photo Of His Daughter Admiring His Tattoos, & It's Precious
Dwayne "The Rock" Johnson might be known as much for his ripped and tattooed physique as he is for his acting skills, but there's one person in particular who thinks his body art is super special: his young daughter, Jasmine. On Sunday, The Rock shared a photo of his daughter admiring his tattoos on Instagram, and Johnson's explanation of why her fascination means so much to him was a really beautiful dad moment. According to Us Weekly, Johnson wrote in the photo's caption that his baby girl likes to check out her daddy's tats after she finishes eating. And while she may not know it yet, his ink is far more than just something cool to look at:
Can't wait to one day explain to her what all this means. Chat about her cultures (Samoan, Armenian, African American and Italian). And while these symbols may appear to be primitive, unsophisticated and crude - they're extremely sacred, thousands of years old and very powerful. My mana (strength). Ironically enough the symbol she's fixated on is our ATUA (our God) protected by the small building blocks of my life and then by shark teeth.
Johnson became a dad for the second time when his wife, Lauren Hashian, gave birth to Jasmine in December (he also has a teenaged daughter named Simone from his first marriage, according to Us Weekly). And judging by his social media posts, he takes his role as a father very seriously. The loving family man shared a sweet snap on Instagram to mark his daughter's "4 month birthday," writing that she was his inspiration:
I'm always asked - What inspires YOU? My answer's easy and honest.. what inspires me the most is always waitin' for me to walk thru my front door when I come home.
Happy 4 month birthday Jasmine! One day you'll know just how happy, proud, lucky and blessed you, your sister and your mama make me. You'll also thank me one day for your toughness and your mama's everything else. 😉
But perhaps nothing was sweeter or more ovary-melting than Johnson's first Instagram post following his beautiful daughter's birth — a photo showing the buff actor holding the tiny infant skin-to-skin for the first time. Not only was the post a gorgeous, loving peek into Johnson's overwhelming new-dad joy, but it was also an incredibly romantic tribute to his wife, and a powerful message about the importance of involved fatherhood:
Kinda crazy but in this cool and powerful skin to skin bonding moment with my newborn baby Jasmine, I had just one wish I asked the universe... Give me the strength to be a better man today than I was yesterday. If I can accomplish that, then I'd have a good shot at being a great father. To all you young men out there who will be fathers one day, the goal of "being better" will never steer you wrong. Trust me I've been down this road.
Something else that'll never steer you wrong is "walking thru the fire" with your baby's mama. I was right there during labor, helping her breathe, every highly intense contraction, every second of pain, right there watching the actual birth, cutting the cord and wiping the tears. Incredible...As men, it's a miracle we should witness because it'll give you a whole new respect for the strength and beauty of a woman.
Johnson's proud heritage isn't just something he plans on sharing with his daughter, however. According to NBC, Johnson has signed on to voice the character Maui in Disney's upcoming movie, Moana, which will feature "Disney's first Polynesian and Pacific Islander princess." As the son of a Samoan mother, Johnson has said that the project is a big deal to him, explaining, "Samoa is in my blood, and to tell a story inspired by the South Pacific is truly a great honor."
Who knew that a big and tough former wrestler like The Rock could turn out to be the ultimate example of sentimental #dadgoals?