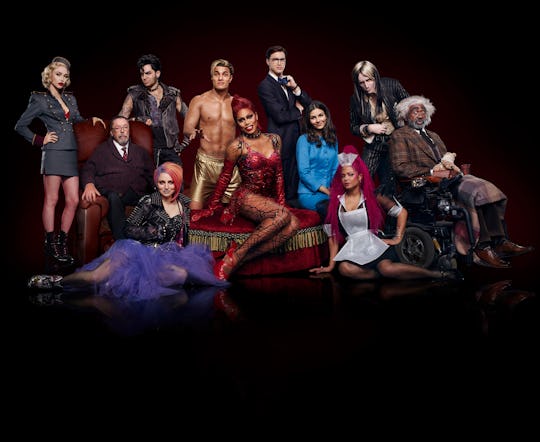 Miranda Penn Turin/FOX
The 'Rocky Horror Picture Show' Credits Will Leave You Shivering With Anticipation — VIDEO
Televised revivals of musicals have become all the rage lately, with audiences eager to tune in and see their old favorites undergo new treatment. Whenever another revival hits screens, everyone becomes very curious about just what it has done right – and what it's done wrong. Judging things is half the fun, right? FOX is bringing the next revisited musical to TV screens, and it's a serious cult classic: that 1970s low budget phenomenon The Rocky Horror Picture Show. Tackling a hugely popular musical is always going to be a risk, with people ready to dismiss it just for not being the original, but FOX has released a little teaser that will allow you to determine how you feel for yourself. These The Rocky Horror Picture Show credits could have you shivering with anticipation – or not.
Set to premiere on October 20, The Rocky Horror Picture Show: Let's Do The Time Warp Again isn't live, like most other recent TV musicals. Instead it's pre-taped, which is why fans are able to see this teaser in the first place. It also has an impressive cast, including Laverne Cox, Adam Lambert, and a returning Tim Curry, but in the first look you don't get a glimpse of any of them. Instead it's the entire opening number, "Science Fiction/Double Feature," performed by Ivy Levan. And it's a big departure from the original movie – though not from stage performances.
The opening of the original film is iconic at this point: it's just a close-up of red lips against a black background, lipsyncing along to the song as the credits run. The lips belonged to actress Patricia Quinn, who played Magenta, while the voice was that of Richard O'Brien, who created the show and played Riff-Raff. However, when performed on stage, the number is usually handled by whoever is playing Magenta, generally dressed as an usherette (things vary production to production, of course).
In the case of FOX's revival, it takes inspiration from the stage production – though Levan is not playing Magenta in the rest of the show (that honor goes to Christina Milian). Levan is indeed dressed as an usherette, tearing tickets and preparing snacks while she leads audience members into the theater to watch the show. At the very end, it makes its nod to the original by zooming in on Levan's lips. It's an interesting take; previous clips have shown that this production will seemingly incorporate audience participation into the film as a reference to the traditions of live performances. So we will all be an audience watching an audience watch Rocky Horror.
It might be a good choice for this production to distinguish itself from its predecessor. Everyone is going to be comparing it to the original anyway, but the more it differentiates itself the better its chances of standing on its own will be. The only question that remains is whether the changes it makes work for you.