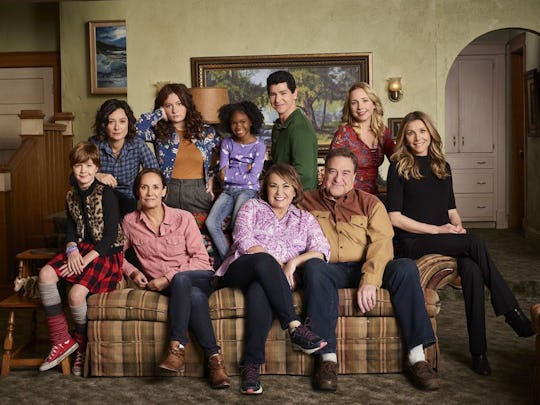 Robert Trachtenberg/ABC
The 'Roseanne' Revival Trailer Is Here & It's Perfectly Nostalgic
It's been over 20 years since the popular family sitcom Roseanne came to an end. But now that we're living in the age of revivals and reboots, it shouldn't be all that surprising that the series is coming back for nine new episodes. News of the revival hit at the end of last year but after a bit of a wait the Roseanne revival trailer is finally here and it's perfectly nostalgic.
The new episodes include the return of the entire original cast, which means every member of the Conner family is back in their same, familiar house. Even Sarah Chalke — who replaced Lecy Goranson as the eldest Connor daughter when Goranson went to college — is in the revival. However, since there obviously can't be two Beckys in the series, Chalke will actually play a new character named Andrea, who hires Becky to serve as her surrogate. Naturally, this will lead to some conflict within the Conner family, but it's the perfect way to get both Becky's into the revival with vital roles.
In addition to the original cast, there will also be a number of guest stars from the original Roseanne series making appearances in the revival. Those guest stars include Estelle Parson as Beverly Harris, Sandra Bernhard as Nancy Bartlett, Johnny Galecki as David Healy, Natalie West as Crystal Anderson, James Pickens, Jr. as Chuck Mitchell, and Adilah Barnes as Anne Marie Mitchell. However, for the very first trailer, the episode focused only on the Conner family, which you can see below.
At the very start of the trailer, Roseanne makes a joke about thinking that her husband, Dan, was dead, playing on the fact that when the original run of the series came to a close it was revealed that Dan had died and most of the final season was actually fictionalized by Roseanne herself. Obviously for the whole original cast to return that had to be changed, though it hasn't been made clear how exactly that will be explained.
During the 2017 TCA summer press tour, ABC boss Channing Dungey said that the show won't ignore "the events of the finale, but I can say that Dan is definitely alive." It'll be interesting to see how that all plays out in the new revival. For now though fans have other concerns. Although most loved the trailer and are only more excited to see what's in store when the episode finally premiere, others felt that it was lacking.
Many were hoping to see David pop up somewhere in the trailer to confirm that he and Darlene ended up together, but, unfortunately, he wasn't in it at all. Additionally, Entertainment Weekly revealed David will only be appearing in one episode. It seems unlikely that if he and Darlene were still together, he'd only be in one episode. Then again who knows? Galecki is busy with The Big Bang Theory right now. Perhaps he just couldn't commit to more than episode. So maybe don't give up hope just yet.
People were also hoping to find out a little bit more about what will happen in these nine episodes. Although the trailer certainly seems to indicate a lot of fun and hilarity will be in store, it didn't really give anything away about the plot. Thus, fans still don't really know what to expect from the new episodes, but that's not stopping them from being excited.
Thankfully, the wait for the revival isn't too much longer. The show will premiere on Tuesday, March 27 at 8 p.m. EST on ABC with back-to-back episodes, and then continue it's nine episode run with weekly episodes at 8 p.m. EST on Tuesdays.
Check out Romper's new video series, Romper's Doula Diaries:
Watch full episodes of Romper's Doula Diaries on Facebook Watch.