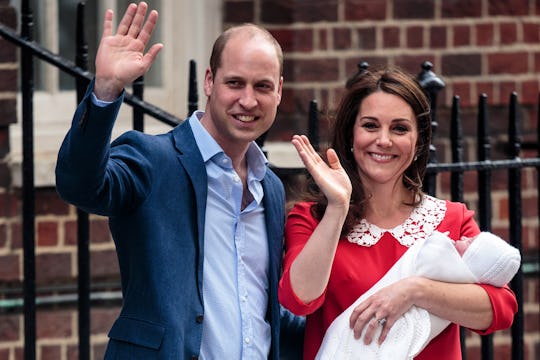 Jack Taylor/Getty Images Entertainment/Getty Images
Here Are The Details Behind The Royal Baby's Bonnet & Blanket Outfit
The latest royal baby moment from a birth the whole world waited anxiously for finally happened. Well, maybe not the whole world, but at least fans of the royal family and people over in the United Kingdom cared about it. The world finally met the newest royal baby on Monday, and the royal baby's bonnet and blanket look was especially adorable on the newest member of the British royal family. Because when you're the latest member of a monarchy being introduced to the masses, you've got to do it in style.
Prince William and Kate Middleton welcomed another baby boy on Monday, and they wasted no time showing him off to the world. When Prince William, Middleton, and "Baby Cambridge," as the press is calling him, exited the Lindo Wing at St. Mary's Hospital in London, the baby was wrapped in a white blanket that seemed to have lace on the edges. He also sported a super cute knit bonnet on his head, which covered him up a bit — both from the numerous camera lenses of spectators surrounding the exit of the hospital, and from the spring weather over in the United Kingdom.
Prince William and Middleton were all smiles as they introduced the crowd and cameras to their son, and they certainly picked the perfect little outfit for him to wear as they did so.
The blanket the little royal wore was reportedly actually a shawl from GH Hurt and Son Ltd., which is apparently a favorite brand of the royal family's, according to People. It was definitely adorable, and was a stunning contrast next to Middleton's bright red dress.
And of course, the hat and the blanket the baby was wrapped in seemed to match perfectly. Because contrary to popular belief, illustrators, designers, and anyone who's ever had to choose a paint color knows that "white" can actually be many, many different shades.
The royal baby made his appearance before the world about seven hours after his birth, according to Harper's Bazaar. He's already back home at Kensington Palace with his family, where hopefully he's getting a lot of rest, along with his likely exhausted mother.
When Princess Charlotte was first introduced to the crowd outside of St. Mary's Hospital, she was also wearing a white bonnet and blanket. At first I guessed that Prince William and Middleton must have liked that look, because their new baby is wearing an almost identical ensemble.
But there's apparently much more to it than that. Prince George and Princess Charlotte were both wrapped in white GH Hurt & Son Ltd. blankets as well, but the tradition didn't start with them, according to OK! magazine.
The designer has reportedly provided the royal family with baby blankets for 69 years now. The first was used in 1948, when Queen Elizabeth II and her husband Phillip welcomed Prince Charles, according to OK!
When Prince Charles and Princess Diana welcomed Prince William and Prince Harry, they also reportedly had blankets from the same designer. Since the look is so adorable on all of the royal babies, this is one tradition I'm glad Prince William and Middleton stuck with.
But the knit hat doesn't appear to have the same significance as the blankets all of the recent British royal babies have worn during their first public appearances. Prince George did not have a hat on when he was initially shown off outside of the Lindo Wing, for example — but you've got to keep in mind, he was born in July.
The newest prince has a spring birthday, and the weather in London was apparently a bit cold and windy on Monday, according to Town & Country. Princess Charlotte was born in May, so it makes sense that both the princess and the baby prince were given hats to wear by their royal parents just in case.
All traditions aside, the outfits each of the children of Prince William and Middleton wore for their public debuts were all super cute, albeit very similar. I personally think this royal baby's bonnet and blanket combination is the most adorable one yet.