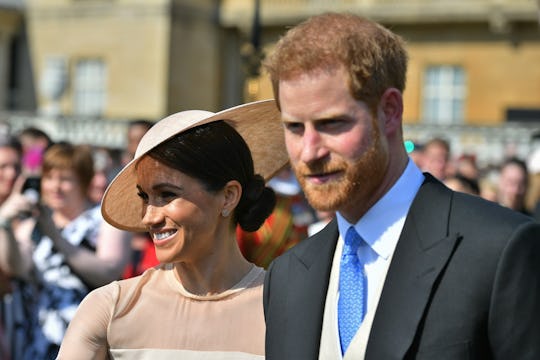 WPA Pool/Getty Images Entertainment/Getty Images
The Royal Family Dress Code Is Pretty Strict, & Meghan Markle Is Not Exempt
It's no secret that the British royal family has to present a certain image to the world. When a member of the family appears in public, they're representing the whole family, and in a lot of ways, the entire British monarchy. So it shouldn't be exactly shocking that the royal family dress code is definitely a little strict. No matter the person's gender, everyone has to follow the rules, and after looking over a lot of them, I know for sure that the royal life is not for me.
When Meghan Markle married into the British royal family by marrying Prince Harry on Saturday, May 19, there was a lot of talk about what she would and would not be able to do once they were wed. And that talk included her wardrobe and style choices. After all, Markle is now officially the Duchess of Sussex, and that comes with a lot of responsibility, as well as a strict dress code.
And while Markle might need some time to get used to the guidelines surrounding the royal dress code, her husband and his family are probably much more used to the rules, which might seem just a bit strange to the rest of us commoners.
First of all, hats are super important when it comes to British royal dress. A senior tutor for the English Manner etiquette consultancy, Diana Mather, told the BBC that women are to wear hats for formal events, and that they used to be worn even more often than that.
Indeed, Prince Harry and Markle's royal wedding invitations asked female guests to wear "day dress with hat," according to Brides. The guests aren't members of the royal family, and aren't required to adhere to royal family dress code, but it was a sign of things to come for when Markle attends formal events as a duchess.
The BBC also reported that it is tradition for young princes and princesses in the British royal family to be formally dressed whenever they're out and about in public. It's also tradition for boys to wear shorts, which is why we see Prince George in those adorable get-ups of shorts and knee socks so often.
The dress code isn't just about clothing, either. The royal family is not allowed to wear nail polish that doesn't look "natural," according to Business Insider. Members of the royal family such as Kate Middleton, Queen Elizabeth, and Markle are clearly more affected by this than the male family members, what with stereotypical gender norms regarding nail polish and all.
In fact, fake nails or colored nail polish are actually considered "vulgar" to the royal family, according to OK! magazine.
Speaking of nails, you may have noticed that the Queen's are often covered up by gloves when she's in public. She reportedly wears them during the daytime because she has to shake hands with hundreds of people, and they prevent the spread of germs from person to person, according to The Sun. This doesn't seem to be a dress code requirement so much as a practical choice on the Queen's part, but for formal events like state banquets, women are expected to wear long opera gloves.
As for the Queen's dress code, the BBC reported that she often wears bright colors so that she can be seen in a crowd. Again, this doesn't seem to be required of her, but if she likes colors and it serves a purpose, why not?
When it comes to casual wear, even jeans are not really acceptable for the royals. StyleCaster reported that there's "specific protocol" for the British royal family if they want to dress casually; women are expected to wear day dresses or trousers along with a jacket or cardigan, while men are supposed to wear chinos and pair them with a collared shirt or blazer. But in a super casual setting, like a quick trip in their own yards, members of the royal family might be able to sneak a pair of jeans.
Even when women in the royal family wear dresses, they are expected to not don a miniskirt or short dress. The queen reportedly disapproves of hemlines that are higher than an inch or two above the knee, according to Channel 24. So no chic, short dresses for Markle in the future.
Finally, that tiara that Markle wore for her wedding that you may have admired? That was the first chance she had to wear one like it. Crowns and tiaras are apparently reserved for married women and members of the royal family, according to Business Insider. So fiancée's aren't about to flaunt them before marriage. Obviously, they don't wear them all the time, although I would argue that they technically fit into the rule about hats at formal events.
There are many more guidelines in the royal family dress code that members are expected to follow. Diply reported that bare legs and cleavage are a no-go, for instance, and that pantyhose are an acceptable alternative to showing some leg.
These are just some of the things required of British royals under their dress code, and it's already more than I could ever follow myself. Kudos to Markle for agreeing to the rules, as an American actress who's probably seen and worn some pretty crazy outfits in her day that she'd never be allowed to wear now as the Duchess of Sussex.