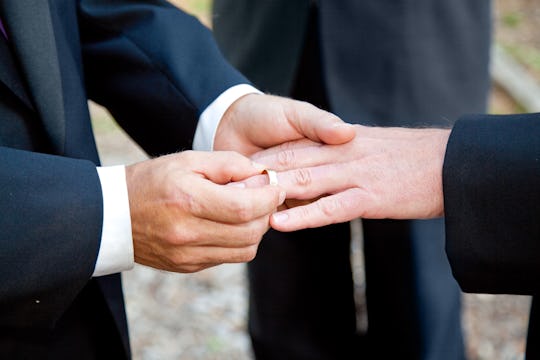 Fotolia
The Royal Family's First-Ever Gay Marriage Is This Summer, & We're Here For It
As you might have heard, May 19, 2018 was kind of a big deal. That's because Prince Harry and Meghan Markle officially tied the knot in what was the most highly-anticipated wedding of the year. In front of millions of viewers from around the world, Prince William's little brother and the former American actress said, "I do." And people were still obsessing over the details — the dress, the traditions that were and weren't followed, the adorable children in the wedding party, and more — literally weeks later. Well buckle down, fans of everything royal. Because the royal family's first-ever gay marriage is set for this summer. And we're totally here for it.
Lord Ivar Mountbatten — who is a cousin to Queen Elizabeth II — is set to marry James Coyle later this summer, People reported. The couple will wed at a private chapel at Mountbatten's country estate in Devon. And guess what? The affair will mark the first gay wedding of a member of the extended royal family. You might remember that Lord Ivar Mountbatten came out as bisexual two years ago, Glamour reported — which was years after he and his wife of 16 years, Penelope (Penny) Thomas, divorced. What's interesting is Penny will actually be the one to give Mountbatten away at the ceremony. Too cool, right?
Apparently, the idea for Penny to carry out this particular honor came from the former couple's adult children, Ella, 22, Alix, 20, and Luli, 15," People reported. "It was the girls' idea," Penny told the Daily Mail. "It makes me feel quite emotional. I'm really very touched."
As the Daily Mail reported, Mountbatten didn't initially feel like he needed to get married to Coyle "because I've been there, done that, and have my wonderful children." However, he said he "really wanted to do it for James" because "James hasn't had the stable life I have." He then turned to Coyle, adding, "I want to be able to give you that."
Although Mountbatten's close friend (and relative) Prince Edward — who is Queen Elizabeth II's third son — is unable to attend the wedding, he and his wife Sophie are said to "adore" Coyle. "All my good friends have accepted James," Mountbatten said, according to People. "I basically told everyone, 'I've found somebody — it's a bloke.' They just started laughing. Then they met James and one particular mate said, 'If I was gay, I'd certainly go for him.'"
While it's true this will technically be a "royal" wedding — because Mountbatten is a member of the extended royal family — it doesn't look as if the event will be anything like Prince Harry and Meghan Markle's grand affair. Express reported the pair will be exchanging vows in front of close friends and family members. Afterward, they will be inviting roughly 120 friends to celebrate with food and music. And get this: There might not even be cake! "There won't be two men in tuxedos on a cake, white doves or anything twee or contrived like that," Coyle told the Daily Mail. "We'll probably have cheese, instead of cake." (Hmm. Maybe they could compromise and do cheesecake?)
Judging by his recent, in-depth interview, it's clear Lord Ivar Mountbatten has struggled for quite some time with his sexuality. "Finally I am able to love myself," Mountbatten said, according to Express. "And the reason this marriage is acceptable to all of us, particularly our lovely daughters, is because of the character of James, the nature of the beast — the gorgeous beast." (Aww!) It's awesome to see how happy the royal is today with his soon-to-be-husband, James Coyle. And honestly, I'm in awe of how supportive his ex-wife and daughters are. Although this royal wedding won't be broadcasted live for the world to see, I still wish the couple the best as they embark on this new chapter of their lives together. Congrats!