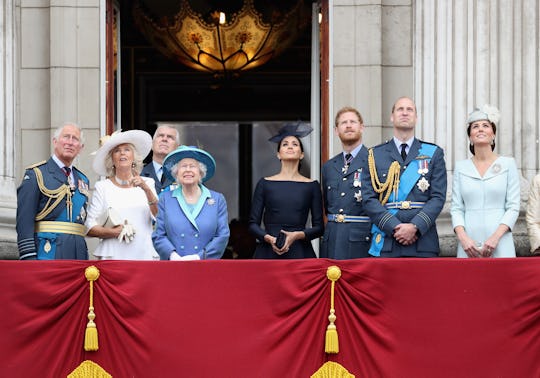 Chris Jackson/Getty Images Entertainment/Getty Images
The Royal Family's Holiday Cards Over The Years Shows How Things Have Changed
Holiday cards are a staple of the season. They're a cute, fun way to update people on you or your family's health, big life events, and more, and to wish others a happy holidays. When you collect holiday cards, they can also tell a story that spans years. Fans of the UK's royal family can always look forward to receiving a holiday card update. And the royal family's holiday cards over the years show how much things have changed.
The British royal family has been sending out holiday cards for longer than you might think. Good Housekeeping reported that the family has been sending out cards since as early as 1914, when King George V and Queen Mary (the queen's grandparents) sent a greeting card to the troops fighting in World War I. Royal family holiday cards have even been sold at auctions, as reported by E! News, specifically those featuring Princess Diana and her family.
Some people do make a special mailing list to receive a card from the Queen. According to Express UK, the Queen and her husband, Prince Philip, the Duke of Edinburgh, will send out 750 cards this year. That may seem like a lot, but there are definitely a lot of other people who'd love holiday greetings from the family. Luckily, with social media, everybody can look forward to some members of the royal family posting their own Christmas cards online.
A quick look back at those Christmas cards shows just how much things have changed over the years.
In 2015, Prince William and Kate Middleton released their first Christmas card as a family of four.
"A new family photo — Merry Christmas from The Duke and Duchess of Cambridge, Prince George, and Princess Charlotte," Kensington Palace, the official Twitter account for the Duke and Duchess of Cambridge and the Duke and Duchess of Sussex, shared.
The photo shows Prince George, already a toddler, standing next to his mother. Middleton is crouching down holding an absolutely adorable, baby Princess Charlotte on her lap.
Prince Harry also released his own holiday card in 2015. It featured the prince alongside Battle of Britain veteran Tom Neil, as reported by The Telegraph.
It makes sense that Prince Harry would pick that photo for his holiday card, since he had a military career himself. A spokesman for the palace reportedly told The Telegraph that Prince Harry "considered it a great honor to meet Tom during the Battle of Britain flypast in September. It was one of his most memorable moments of 2015."
In 2017, Prince William and Kate Middleton released another holiday card of their family. You can easily see just how much their kids have grown. Prince George is up to his dad's waist now and Princess Charolette, no longer a baby, is making a sweet face at the camera.
This year has seen a lot of changes for the royal family. Prince Harry married Meghan Markle and the couple are now expecting a child together. Meanwhile, Prince William and Kate Middleton welcomed their third child, Prince Louis.
That means there are big questions around what the cards will look like this year. Only time will tell, but if you're lucky enough to receive a physical card, make sure to hold onto it! Put together, these cards tell a story that can be fun to look back and reflect on.
This first-time mom wants to have a home birth, but is she ready? Watch how a doula supports a military mom who's determined to have a home birth in Episode One of Romper's Doula Diaries, Season Two, below. Visit Bustle Digital Group's YouTube page for the next three episodes, launching every Monday starting November 26.